Labour Councillor Re-elected, Despite Being Under Investigation For Anti-Semitic Comments
9 May 2018, 07:49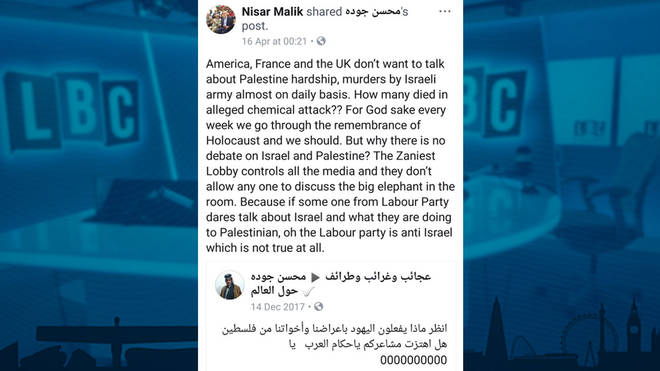 LBC can reveal a Labour councillor was re-elected in Hounslow last week, despite being under investigation for anti-semitic comments.
Nisar Malik was elected back to represent Hounslow Central with 2,211 votes with two other Labour colleagues.
But LBC understands he is under investigation for a number of Facebook posts, made less than a month ago in the middle of April.
LBC reporter Rachael Venables explains: "The crux of the posts are rants about Israel and the activities of the Zionist Lobby.
"He conflates the Holocaust with the Israel/Palestine conflict, writing 'For God's sake every week we go through the remembrance of the Holocaust and we should. But why is there no debate on Israel and Palestine?'
"He adds 'the Zaniest [Zionest] Lobby controls all the media'.
"He also calls the chemical attack in Syria "alleged" and said America has "split Syria to please the Zaniest [Zionest] government of Israel', adding 'Israel and America created ISIS'."
The Labour Party was aware of the posts and he was told to take them down.
A source confirmed he is being formally investigated for anti-Semitism. But he was still allowed to run as a councillor and he was re-elected to serve Hounslow Central.
After seeing these posts, Mayor of London Sadiq Khan told LBC: "Some of those remarks are clearly anti-Semitic
"I think the Labour Party should be investigating those comments speedily and if those complains are upheld then anybody with those views should be kicked out of the Labour Party.
"There must be no place in our party for anybody with racist views. Anti-Semitism is racism.
"We should be a party that is seeking to shape and change people's views for the better, not being a place where people think it's ok to join our party with anti-Semitic views."
A statement from the Labour Party said: "The Labour Party is committed to challenging and campaigning against antisemitism in all its forms.
"All complaints of antisemitism are taken extremely seriously. These are fully investigated in line with our rules and procedures and any appropriate disciplinary action is taken."
Rachael spoke to Cllr Malik about it, who wanted to stress the difference between Jews and Zionists. He said one is an ideology and the other a religion.