Grayling's Extraordinary Attack On Rail Unions
6 December 2016, 09:40 | Updated: 6 December 2016, 14:24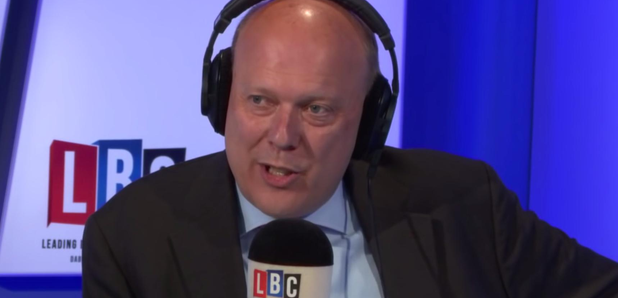 Transport secretary Chris Grayling launched an extraordinary attack on rail unions, who he says are using strikes on Southern Rail to attack the government.
Talking to LBC's Nick Ferrari, Grayling said that the unions are disrupting services on Southern Trains that operate in Tory areas in a bid to 'get at' the government.
"I wish we had a solution to this, the unions won't see sense," he told Nick.
Southern Rail has been mired in problems with a protracted spite between the operator and unions adding to an already disputed service.
"Nobody is losing any pay, nobody is losing their jobs, everybody is guaranteed the same amount of overtime, they are guaranteed long term job security and the changes because of new technology are deemed to be safe by the independent rail inspectorate," Grayling said.
"So what's the strike for? The people on strike have already signed up to the new terms and conditions, two thirds of the trains are already using this type of approach, so it's a completely futile strike and I'm afraid my conclusion is it is nothing to do with the issue at all."
"It's political, its about trying to go after Conservative areas on a private railway trying to get at the government. This is a politically motivated strike and it's utterly, utterly wrong."
"If they were losing their jobs I might be more sympathetic, but nobody is losing their job over this, nobody is having a pay cut, so what on earth is the issue?"