James Comey Rates Trump One Out Of 10… But Admits He's Not The Worst President
22 June 2018, 12:38
The former FBI Director fired by Donald Trump rated the US President "one out of 10" in a scathing LBC interview.
"I would rate him one or two… probably one," James Comey told Nick Ferrari on Friday morning.
"We've had worse presidents – Andrew Johnson was the President after Abraham Lincoln and Andrew Johnson was a raving racist, drunk and terrible person."
During the 2016 election campaign, Mr Comey made global headlines after announcing an investigation in Hillary Clinton's emails.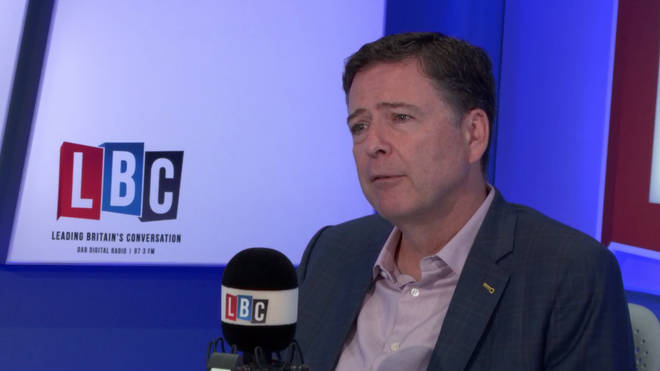 He described Trump and Clinton as the "two least-trusted" people in the country prior to the election.
Mr Comey however, gave Trump's predecessor Barack Obama a much higher approval rating.
The ex-FBI director said: "I'd probably put him up towards the top end.
"My vision of him was mostly through the national security lens and so especially on that – he was very tough and decisive when it came to counter-terrorism.
"I would put him at about eight out of ten."
Meanwhile, Mr Comey was highly critical of Trump as he revealed more about the pairs meetings together.
He said: "I never saw him laugh and I had dinner alone with him for about an hour and a half.
"He talks nearly the entire time and it's about him telling you how great he is and seeking your affirmation.
"But there's no humour, which is deeply concerning in a leader."