Local Resident Furious That Theresa May Ignored Grenfell Victims
16 June 2017, 08:08 | Updated: 16 June 2017, 15:02
A local resident who has been helping at the Grenfell Tower fire told LBC that Theresa May's refusal to meet victims shows she's not fit to be Prime Minister.
At least 17 people are confirmed dead with 60 people still missing following the fire in North Kensington in the early hours of Wednesday morning.
Yesterday, the Prime Minister visited the site, but didn't meet any of the victims who have lost loved ones and their homes. In comparison, Jeremy Corbyn was pictured comforting locals in the area.
Eve Wedderburn lives right by the Grenfell Tower and rushed to the aid of the victims. She told LBC that Theresa May would have had a difficult time speaking to locals, but a true leader would have done it.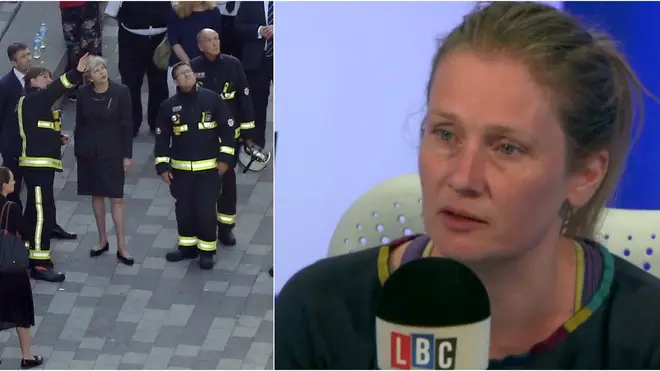 Asked if the PM should have met locals, she said: "Absolutely she should.
"She'd have had a hard day, but not as hard a day as anyone there had.
"If she hasn't got the chin for that, I don't think she's got a chin for government."
Nick Ferrari also spoke to a guest from The Firefighter Charity. If any firefighter or member of their family needs support, please call 0800 389 8820.