Met Police Chief Admits Bungled VIP Paedophile Investigation Tarnished His Legacy
14 December 2016, 07:48 | Updated: 14 December 2016, 11:43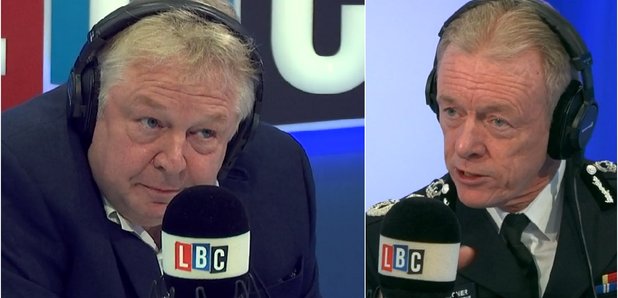 Britain's most senior police officer has admitted to LBC his legacy has been damaged by the now discredited investigation into an alleged VIP paedophile ring.
Met Police Commissoner Sir Bernard Hogan-Howe steps down early next year and when asked about how disastrous Operation Midland was for his legacy, he admitted: "Well, it's certainly not good."
The Met chief got into a fiery row with Nick Ferrari during his Ask The Commissioner programme on LBC.
Nick was questioning why the Met accepted the word of a known fantasist, also called Nick, with no corroborating evidence.
Nick said: "I might as well say I've been attacked by the Duke of Edinburgh. Are you going to drag him in?"
But Sir Bernard responded: "What was being alleged was not credible and it should have been discovered earlier. That we agree on.
"At the time, I wasn't sure, so we tried to determine it. I think the biggest thing we've been guilty of is taking too long to conclude that it wasn't credible and we could have concluded that earlier.
"I suspect the officers in the case, and the system, was too worried about seeming to be obstructive, when we could have been more challenging."