Monarch Collapse: Government Creates "Temporary Airline" To Bring Home Passengers
2 October 2017, 07:55
The Transport Secretary has told LBC the government has put together a "temporary airline" to bring home 110,000 Monarch customers who are abroad.
Monarch has collapsed into administration, the biggest UK airline ever to cease trading, and all its flights have been cancelled.
That will mean the loss of 2,000 jobs, while 110,000 people have been stranded abroad.
But Chris Grayling told Nick Ferrari that the government have put together what he described as "one of Britain's biggest airlines" for the next two weeks to repatriate Brits.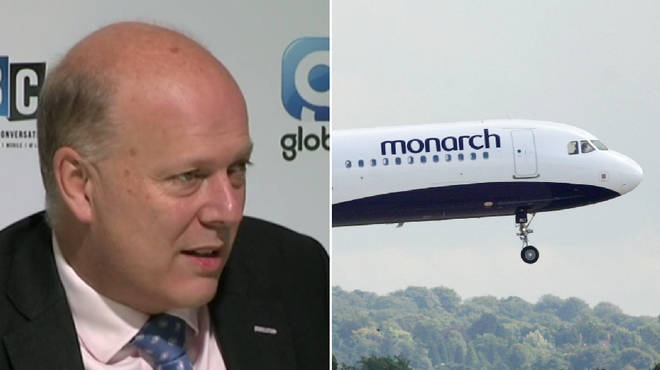 He said: "There are 110,000 people at destinations all across the Mediterranean. They should not be concerned about their return home.
"We'll be getting them home close to, if not at the time that they were expecting to. We're hoping to man a full timetable to what Monarch will have flown.
"My heart goes out to those people here, who are hoping to fly today or the coming days for whom sadly, there won't be an option. We've already spoken to other airlines and tour operators and they've already started an operation to get people re-booked.
"And also to Monarch staff, who are going to lose their jobs today."