Nick Ferrari Fumes At "Shocking Miscarriage Of Justice" Over Marine A
22 December 2016, 07:46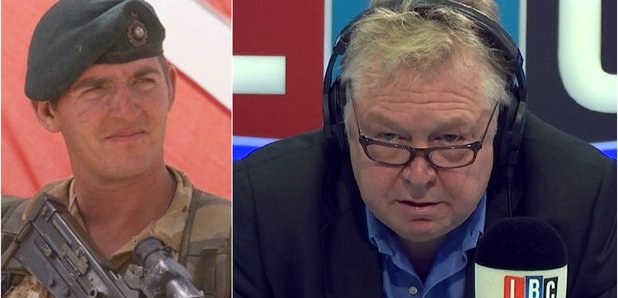 Nick Ferrari rages over Marine A bail refusal, saying he simply doesn't understand why a paedophile like Rolf Harris got bail twice, but a serving soldier doesn't.
Sergeant Alexander Blackman was refused bail yesterday ahead of the appeal of his conviction for killing an injured Taliban soldier in the Helmand Province. He is currently serving a life term with a minimum of eight years.
Lord Thomas, the country's most senior judge, said justice would be better served by expediting the appeal rather than giving bail.
Speaking on his LBC show, Nick was livid that the soldier is still in jail. He said: "We have a system where bail is afforded to rapists and paedophiles, but not to a soldier.
The basic essence of bail, crudely summed up, is you don't give bail if you think the man or woman is going to run away, do a runner, or there's a real risk of reoffending, right?
"Sergeant Alexander Blackman- the crime for which he is jailed happened in Helmand Province. It's highly unlikely he is going to go around shooting other people, other members of the Taliban in whichever part of the country might live, in the middle Wiltshire where he is in jail, or anywhere else. It's unlikely to happen is it?
"He's also not going to do a runner either. And indeed, a lot of money has been put up by various people very honorably.
"So what on earth possessed the court yesterday not to grant this man bail?
"I think this is a shocking shocking miscarriage of justice. Of course the man needed to face some form of justice for taking the life of the injured Taliban, but this is way way above what he should be serving, a life term at this current time."