Nick Ferrari Hammers Guest Who Defends Doctor Guilty Of Manslaughter
14 August 2018, 14:30
Nick Ferrari criticised a guest who insisted that the doctor convicted of manslaughter over the death of a young boy would learn from the incident.
Dr Hadiza Bawa-Garba on an appeal to keep on practicing medicine, despite being convicted of manslaughter by gross negligence over the death of Jack Adcock, who died of sepsis at Leicester Royal Infirmary in 2011.
But Dr Adrian Harrap, a spokesperson for The Doctors' Alliance UK, insisted none of it was her fault and she should be allowed to return to an already understaffed NHS.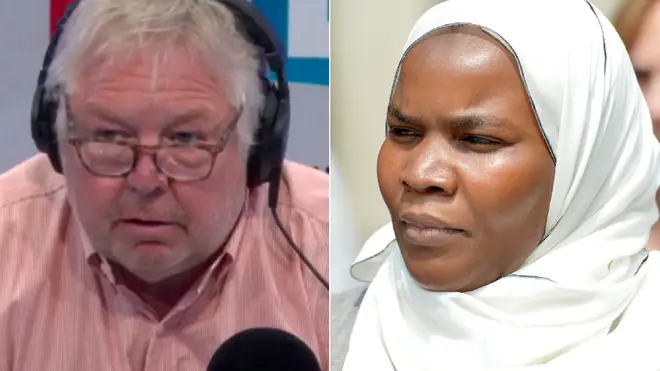 Nick accused him of thinking doctors are above the law, saying: "She was convicted of manslaughter in a court. You seem to be arguing that the medical profession have a different set of criteria over which it can be judged.
"While a judge and jury are happy that it's manslaughter, for the medical profession, it's a learning experience.
"I don't see how you can tally those two up."
But Dr Harrap insisted: "This situation arose in the context of the system being under immense strain and immense pressure.
"Dr Bawa-Garba was dealing with a number of circumstances that were well outside of her control in a situation where she was facing a lack of colleagues, a lack of senior staff."
Nick responded: "Presumably that's the same as across the whole of the NHS though, Doctor.
"Every A&E up and down the land is battling with the sort of things you do. You do an incredible job in remarkably-strained circumstances. You're not given enough cash, you're not given enough time, you're probably not getting enough rest.
"This doctor didn't reach the bar that you and your colleagues reached yesterday and probably will today and tomorrow.
"She's clearly not up to it, why on earth are you arguing to keep her in place? She's not as good as the rest of you."
Dr Harrap then said: "I don't feel that is the case. She has good insight in this situation and has areas of development."
Watch the fiery conversation at the top of the page.