Nick Ferrari Wears Spit Hood During Fiery Interview With Met Police Commissioner
4 September 2018, 09:00 | Updated: 4 September 2018, 14:58
Nick Ferrari interviewed the Met Police Commissioner while wearing a spit hood after a caller asked why officers weren't allowed to use them on suspects.
The caller William, a serving police officer, was frustrated that they are not permitted to use the spit hoods, which stop a person spitting at police, unless they are in custody.
Nick agreed with the officer - and put one of the hoods over his head to show that they are not uncomfortable to wear.
He told Cressida Dick: "I'm going to conduct this interview while wearing a spit hood. I'm able to continue my duties, even read my documents while we talk.
"If I was spitting at you now, why shouldn't your officers be protected?"
Ms Dick told him: "Nobody can say that I haven't taken my officers' safety seriously. I have increased taser more than we have ever had. I'm changing the baton to a better baton. We're reviewing their vests, we're reviewing their CS.
"We do use spit hoods in custody.
"But spit hoods will only, by definition, be useful in cases where we know someone is likely to spit. The number of occasions on which that happens I believe is relatively low.
"In the last 18 months, neither I nor any of my senior officers, have been asked by an operational officer for spit hoods."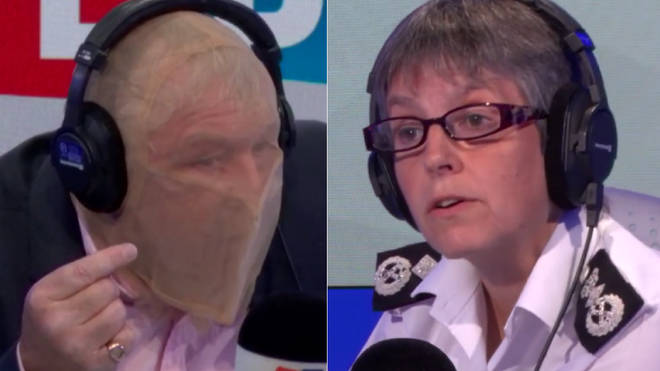 But Nick had one question that left listeners confused: "Why are the British Transport Police allowed them? What have they got wrong?"
William was also unimpressed, saying: "You're basically saying you don't trust your officers to make an informed decision in each scenario. It seems you're more concerned with public perception."
Ms Dick insisted: "I'm concerned about keeping my officers safe."