Nick Ferrari Tears Into Crime Commissioner Over "Non-Crime Hate Incidents" Request
11 September 2018, 09:54 | Updated: 11 September 2018, 11:04
After South Yorkshire Police asked the public to report incidents in which they were offended, Nick Ferrari had this fiery clash with their Police and Crime Commissioner.
The police force suggested that people alert them to hate incidents, even if they don't break the law.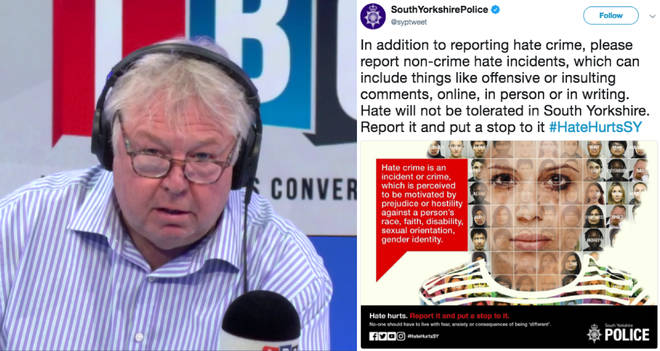 In a time when the police are stretched due to budget cuts, Nick was furious that they are wasting resources on incidents that aren't even crimes.
Speaking to Dr Alan Billings, South Yorkshire's Police and Crime Commissioner, Nick told him: "If a motorist cuts another motorist up in Rotherham and one says the other a few choice words, we now have to get the police involved, do we?
"You've got enough police men and women, do you, to come and talk to me about it?"
And as Nick pressed Dr Billings on the plan, it fell apart more and more.
The conversation even ended with Nick having to warn the Police and Crime Commissioner not to make comments about an incident as it was still a live court case.
Watch the full, remarkable interview at the top of the page.