Nick Ferrari's Fiery Interview With Britain First's Jayda Fransen Following Trump Retweets
30 November 2017, 07:36 | Updated: 18 December 2017, 13:53
Nick Ferrari became involved in an angry row with Britain First's Jayda Fransen as they clashed live on LBC.
The Deputy Leader of the far-right organisation has shot to prominence after Donald Trump retweeted three anti-Muslim videos from her.
One of those videos has been shown to be fake, with no evidence that the perpetrator is actually Muslim.
But when Nick Ferrari asked why she posted something she knew to be fake, Ms Fransen refused to answer.
And he took her to task when she claimed she was a tolerant Christian, who just wanted the best for the UK.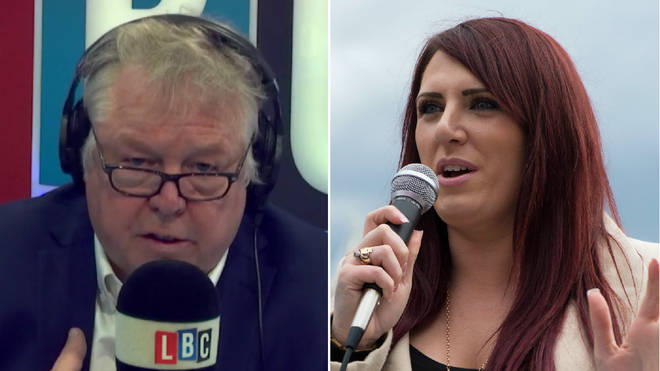 She said: "I'm a Christian. I believe in love, I believe in tolerance. But tolerance of the intolerance is cowardice."
But Nick told her: "People will find it very difficult to follow that, given some of the policies you support and the fact that you want to close down perfectly peaceful people, practicing their faith who offer no threat to any of us.
"And yet you seen to have some superior sense that your religion trumps theirs and therefore all mosques have to be shut down."
The interview took a comedic turn when Nick asked her if she had had any contact with the White House or President Trump.
When she responded, "I cannot comment on that at the moment," Nick said, "Which means you haven't," at that made Ms Fransen angry.
She hit back: "I've just told you I'm not going to answer it, but please don't assume you know the answer to the question."