Nick Ferrari's Moment Of The Year
25 December 2016, 07:39 | Updated: 25 December 2016, 07:47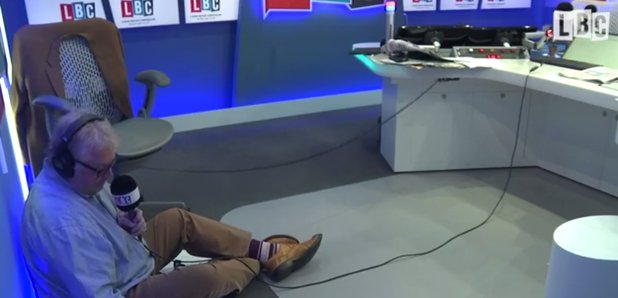 Nick Ferrari has reached record listenership figures this year on LBC and it's memorable moments like this that show why.
During the summer, Jeremy Corbyn was at the middle of another media storm after he released a video while sat on the floor of a "ram-packed" Virgin train.
Only Virgin quickly said the train wasn't quite as full as the Labour leader had suggested. It did prompt Nick to try something new though - presenting his own show from the floor!
Looking back at the end of 2016, Nick says: "What a year for Jeremy 'Calamity' Corbyn.

"It was back in August when the Labour leader really went off the tracks and grabbed headlines when he supposedly couldn't find a seat on a Virgin Train from Euston to Glasgow.

"His clueless media team released a video with Corbyn sitting angrily on the floor and moaning about his plight and claiming the train was "completely ram-packed." Everything was fine and Labour lapped up the coverage. Well, at least for 24 hours. The next day Sir Richard Branson tweeted CCTV footage from the train showing that not only were there empty seats but Jeremy Corbyn took one of those seats himself.

"It was a calamitous PR flop. But if the Labour leader couldn't show solidarity with the plight of Virgin Train passengers I felt I should. So I decided to present my show sitting on the floor with the cameras rolling.
"You can see what happened here..and I hope you're sitting comfortably."