Nigel Farage: Theresa May Could Go Sooner Than Expected
12 June 2017, 08:43 | Updated: 12 June 2017, 09:08
Nigel Farage has told LBC that Theresa May could be forced to quit as Prime Minister sooner than people expect.
The former Ukip leader, who revealed he is still considering whether to return to the forefront in the aftermath of the election, said the PM has to go - and wouldn't be surprised if it happened quickly.
Mrs May lost the Conservative majority after an election shock which left her party being forced to cosy up to the DUP to form a government.
Speaking to Nick Ferrari, Mr Farage said: "We're about to go into perhaps the most difficult set of interntional negotiations in our lifetime, if you don't believe in what you're doing, what chance is there?
"So I think she has to go.
"If it's going to be a Brexit government, then someone who believes in it must be in position."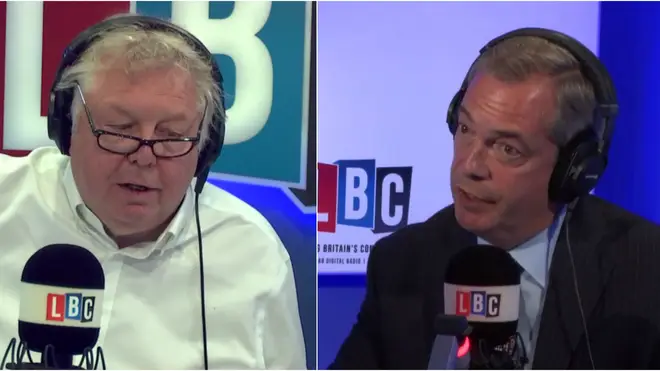 When Nick asked how long Mrs May had left as PM, Nigel responded: "I wouldn't have thought it was very long.
"When you're forced to get rid of your key aides around you, it shows just what a weak position you are in.
"Let's see how the meeting goes with the backbench MPs tonight. Certainly those that I've spoken to are incredibly worried.
"She is fatally damaged and it is just a question of time. It might all happen more quickly than we think."