'Common sense rather than government by gimmick': Shadow Minister takes aim at Tories' migration plans
25 May 2023, 11:08 | Updated: 25 May 2023, 13:36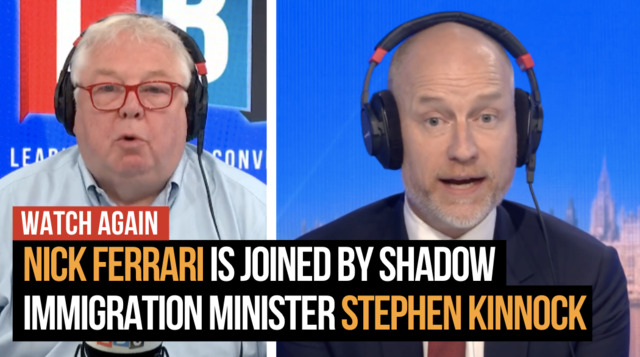 Watch Again: Shadow Immigration Minister joins Nick Ferrari 25/05/23
The Conservatives have been "chasing headlines" and doing "government by gimmick" for the last 13 years, Shadow Immigration Minister Stephen Kinnock has said.
Speaking to Nick Ferrari at Breakfast, the minister said the Tories have "no strategy for our labour market", and linked it to the current skills shortage.
"They've slashed further education skills training, they have failed to get people off the 7m waiting list for the NHS - 2.5 million people on long-term sick leave", he explained, adding that "employers are having to reach for overseas labour" as a result.
Mr Kinnock said Labour's solutions to the small boats issue are "common sense, diplomacy and hard graft", contrasting it with the Tories "chasing headlines" for the last 13 years.
He offered up Labour's proposal for job centres to work "more effectively in partnership with local businesses" to get people off long-term sick leave.
"But how will that stop the boats Mr Kinnock?" Nick asked.
"Oh on the boats, well I mean there's...the Rwanda plan isn't working", his guest replied.
READ MORE: Migration added 606,000 people to UK's population in 2022, official figures show
"No no, okay, so how will you stop the boats?" Nick queried again.
The Labour MP answered: "So, we will get the Rwanda plan scrapped, and put the money from scrapping it into a much better national crime agency and border force team that is really working with European partners to crack down on the people smugglers."
Listen and subscribe to Unprecedented: Inside Downing Street on Global Player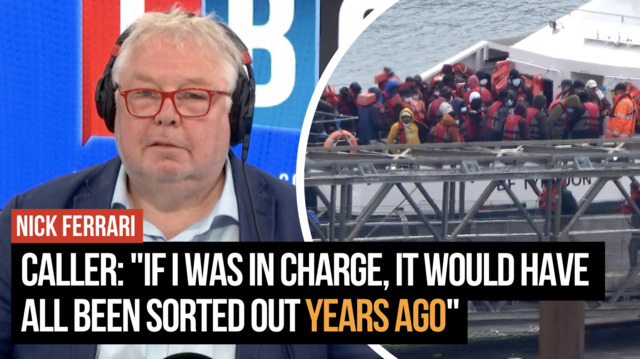 Caller condemns government's 'useless' handling of Channel migrants
"The fact that we left the European Union - without having a successor to the Dublin Convention - means we've got no way of returning unsuccessful asylum seekers to safe third countries, and we've got to get the asylum backlog down Nick", Mr Kinnock continued.
The Dublin Convention he referred to is an EU regulation concerning the protections and provisions of asylum seekers and the countries that can process their applications.
He continued: "In many ways, the backlog is one of the reasons that people smugglers are able to say 'Look, if you get to the UK you'll be stuck in limbo there for at least 450 days before anyone even reviews your claim.'"
READ MORE: Sending migrants to Rwanda 'best available option' to crush people-smuggling gangs, David Cameron says
The Shadow Immigration Minister also said collaboration with international organisations such as Interpol, and the development of a "much more mature and grown-up relationship between the UK government, and the governments of our partners and allies in the European Union" would help solve the small boats issue.