Ferrari Fumes At Parents Of Girl With "Daftest Hairstyle Of All Time"
28 October 2016, 08:07 | Updated: 28 October 2016, 17:18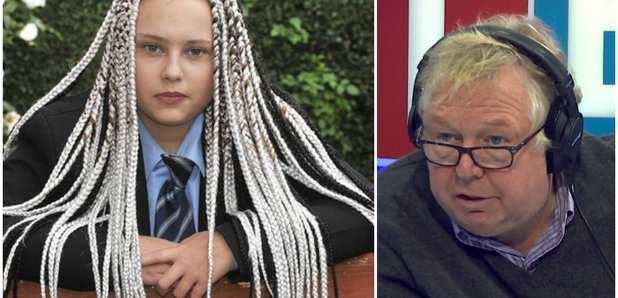 Darren Benson says his 14-year-old daughter's school is being "racist" by not allowing her to have £140 bright white dreadlocks. Nick Ferrari says he's an idiot.
Chenise Benson had the box braids put in over half term but was left in tears when teachers at the school gate turned her away for the exotic style. But talking about the issue today, Nick Ferrari had a very sharp message for Chenise's parents.
Chenise says her friend - who's of Jamaican origin - was allowed to have dreadlocks. Since she wasn't, her dad Darren has branded the school authorities "racist".
The school states: "Please note we do not allow extreme, unnatural hairstyles or colouring. Any hair accessories should be of a practical nature and should not be decorative."
"This is like racism against their own," says Darren. "Chenise is being picked out here because she's white - if she was black or mixed-race they wouldn't have a problem."