The TfL Picture Nick Ferrari Is Complaining To Advertising Standards About
28 September 2018, 09:01 | Updated: 28 September 2018, 12:58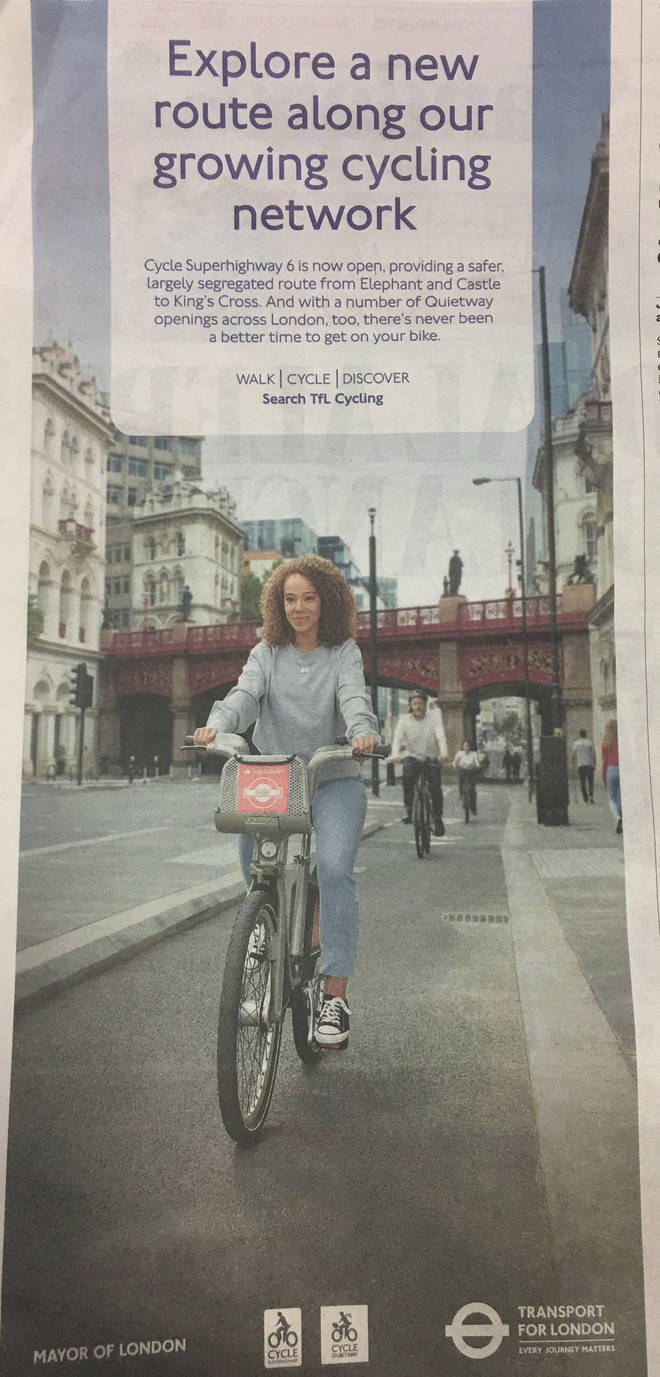 This is the photo from Transport for London for the Cycle Superhighway which Nick Ferrari is reporting to the Advertising Standards Agency.
An advert released by TfL shows three people cycling along the CS6 along Farringdon Road.
The ad reads: "Cycle Superhighway 6 is now open, providing a safer, largely segregated route form Elephant and Castle to King's Cross. And with a number of Quietway openings across London, too, there's never been a better time to get on your bike."
But Nick was livid that the advert shows the road completely empty of cars, something that would simply never, ever happen.
He said: "It's broad daylight and behind her is what is left of the road space for vehicles - cars, lorries, motorbikes etc. Nothing - not a single car.
"It's a busy part of London, not a million miles from the River Thames that takes you up to King's Cross. There is not a vehicle in sight in broad daylight in this ad.
"That, to me, is a wholly misleading claim and image.
"There's no way that you could get a snap of that road with no vehicles.
"Secondly, you see three cyclists in this photograph. The one in the foreground is definitely not wearing a helmet. I know it's not mandated that you should, but every safety guidance says that you should. And I'm fairly certain the third cyclist isn't wearing one either."
In a statement, Miranda Leedham, Head of Customer Marketing at TfL said, "The picture for our Cycle Superhighway 6 advertising was taken on a Saturday morning as we want to encourage the use of cycle lanes on all days of the week.
"Cycling improves health, reduces congestion and helps to clean up London's toxic air and we hope new routes such as CS6 are encourage more people out of their cars and onto their bikes."