These Two Interviews Show Why The Middle East Conflict Is So Difficult To Fix
15 May 2018, 09:12
These two interviews with a Palestinian and an Israeli starkly show the one key issue that will stop anyone halting the conflict in the Middle East.
52 Palestinians were killed yesterday in Gaza on the deadliest day in the region since 2014.
Nick Ferrari spoke to Palestinian academic Azzam Tamimi and David Keyes, a spokesperson for Israeli Prime Minister Benjamin Netanyahu and one thing became very clear.
Mr Tamimi insisted that he would not recognise Israel's right to exist - and Mr Keyes said that proves Hamas should bear "total responsibility" for the problems.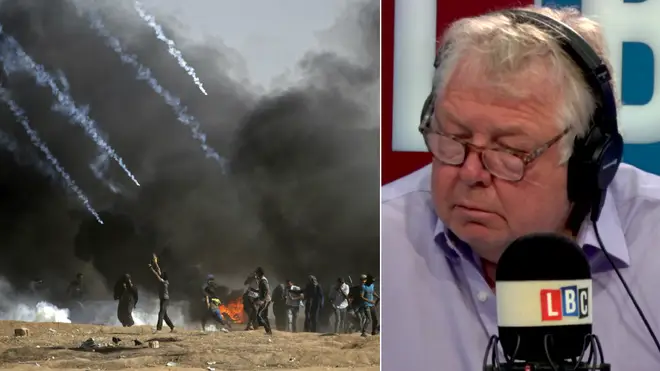 Mr Tamimi said: "We are talking here about occupation, we are talking here about colonialism. We are not talking about a dispute between two natural neighbours.
"Israel, as a Jewish state, has no right to exist in my hometown, in my country.
"This is my land, this is the land of my ancestors. I have every right to resist occupation."
Mr Keyes responded: "That really gets to the heart of the matter. He utterly rejects the existence of the state of Israel. That is what this conflict is about.
"This is what Hamas' leadership openly said - Israel will be annihilated.
"That is why there is violence and Hamas bears total responsibility for the travesties that we see today, by throwing their people into war, by calling for the annihilation of Israel, by targeting civilians and by announcing their aim to try to kill every single Jew."