'When I was uncomfortable with people not speaking English I was condemned' says Farage
5 January 2017, 11:13 | Updated: 5 January 2017, 11:21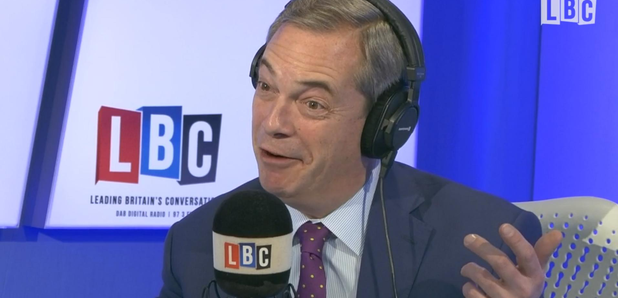 Nigel Farage remembers a time when he was 'condemned' for suggesting immigrants should learn English.
Following the announcement of his new LBC weeknight show, Nigel Farage was on air with Nick Ferrari this morning.
The pair were speaking about the report from a group of MPs and peers which states that migrants should be expected to learn English.
The report by the All Party Parliamentary Group says that all immigrants should have either learnt English before coming to the UK or sign up to classes when they arrive.
But Nigel said that when he suggested this, he was was chastised.
He told Nick: "Do you remember three or four years ago on your show, I talked about a story of getting on a train at Charing Cross and as it went through south London?
"I said I felt uncomfortable, because virtually nobody around me until I got past Grove Park spoke English. Do you remember, I was condemned?
"I mean, you would think that I was the new Oswald Mosley for daring to say it, and now we've got Chuka Umunna and others saying people must speak English. It just shows you doesn't it how much the centre of gravity of British politics has shifted."