'There were no life jackets!': Anti-racism campaigner says safety of asylum barge is 'shocking'
1 August 2023, 14:02 | Updated: 1 August 2023, 15:07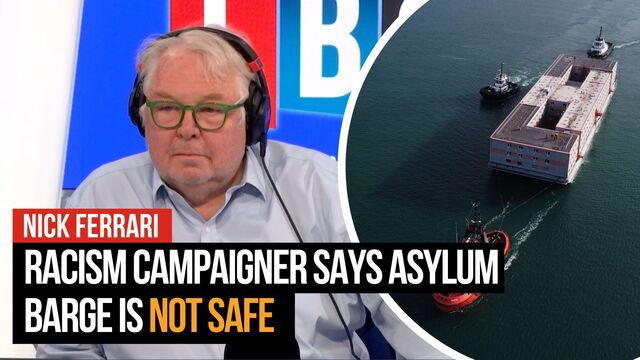 Racism campaigner says asylum barge is not safe
Anti-racism campaigner says the migrant barge is unsafe to live on after inspections reveal it could become "floating Grenfell".
After recent fire checks of the migrant barge raised serious safety concerns, Stand Up To Racism's Lynne Hubbard told Nick Ferrari at Breakfast that the "shocking" lack of safety precautions make the barge unsafe to house migrants.
The anti-racism campaigner said: "It was originally designed for 220 people, 500 refugees plus 40 staff and probably 20 staff working there takes it up to 560. It's quite clear, they're not going to do fire drills because it'd be quite difficult.
"When our councillors inspected the barge last week, there were no life jackets. This is really quite shocking that at this late stage, these things haven't even been looked at."
READ MORE: Fears Bibby Stockholm migrant barge could become 'floating Grenfell' due to lack of fire safety protocols
Nick questioned: "Were the Home Office to say, 'We've reviewed this and we're taking the number down to 250', would you then withdraw your opposition?"
Lynne responded: "No - even then the people who visited the barge say that even if you're putting one refugee in one room, it's absolutely tiny. There are no windows, the access to the port is secure so you have to travel by mini bus from the boat to be checked at the security gate -"
Nick pressed further: "But where would you put these people?"
"Our argument is that the Home Office and the government seem to be, quite intentionally, not processing refugees, so some people have been waiting three years to have their application processed... I would put them in hotels," replied Lynne.
READ MORE: Asylum barge start delayed again as Bibby Stockholm needs more work to prevent fire risk