Birmingham City Council's bankruptcy is 'manna from heaven' for PM but all councils are 'squeezed', says lecturer
6 September 2023, 13:07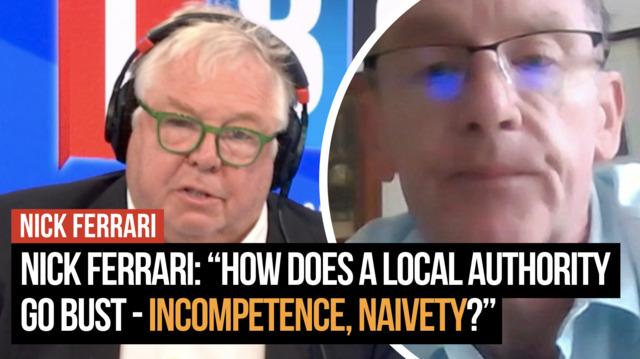 Nick Ferrari and Dr Steven McCabe discuss Birmingham City Council
A lecturer from Birmingham City University tells Nick Ferrari that the council's bankruptcy is a 'blessing' for Rishi Sunak, but notes how councils are also 'squeezed' amid the cost of living crisis.
With Birmingham City Council's declaration of bankruptcy, Nick Ferrari at Breakfast began by asking Dr Steven McCabe: "How does a local authority go bust Doctor? Incompetence, naivety, what is it?"
The news comes after the council entered talks with the government in June, after revealing it had to pay up to £760m to settle equal pay claims.
Dr McCabe described how the previous leader, Ian Ward, was removed and replaced with John Cotton over allegations of "misogyny" and "incompetence."
Read more: Birmingham City Council 'effectively bankrupt'
Read more: 'You wouldn't allow that for a junior cashier': Nick Ferrari on the 'incompetence' surrounding Nigel Farage's bank row
The conversation then turned to the Oracle IT system, which contributed to the council's current financial situation.
The system was implemented to streamline the council's HR system and payments.
Originally, the cost was estimated to be around £19 million but had increased five-fold to "somewhere around £100 million."
Dr McCabe explained: "Of course, if we went to the shop and bought a computer and it turned out to be five times [the amount], people would be asking serious questions"
He added how the Council's "allegations of incompetence" will prove advantageous to the Conservatives.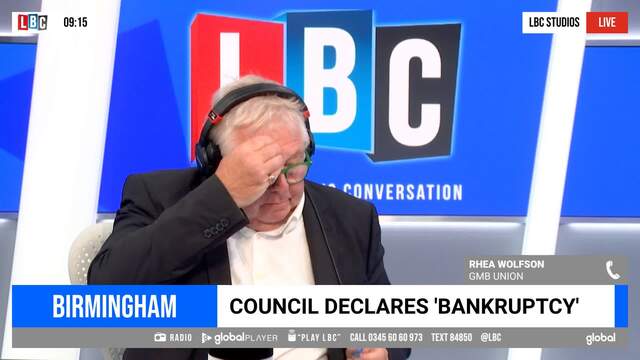 "It's about women's wages": Nick Ferrari talks to GMB rep about Birmingham Council bankruptcy
He continued: "Understandably, we're coming up to the party political conferences and so there must be a sort of manna from heaven for Rishi Sunak.
"This is 'what you get with the Labour authorities'", Dr McCabe added, imitating the Prime Minister.
However, Dr McCabe noted how other councils, including Conservative ones, have also issued Section 114 notices, which prevent all but essential spending.
"All council local authorities are really being squeezed because the amount they get from the government is not as great as it used to be," he said.
He concluded: "In the case of Birmingham this is a lot of social problems and the sort of bill for that, particularly social services, is going up, and of course, we're in a cost of living crisis so it's a kind of perfect storm."