Britain would be less 'cheerful and talented' without Windrush, Broadcaster Trevor Phillips says on 75th anniversary
22 June 2023, 09:56 | Updated: 22 June 2023, 10:05
Britain would be a less 'cheerful and talented' place without Windrush, says Trevor Phillips
Windrush descendant tells Nick Ferrari that the "legacy" of the Windrush generation is that they have made being black and British "ordinary".
Sir Trevor Phillips, who is co-author of the new book Windrush: 75 Years of Modern Britain, told Nick Ferrari that because of Windrush "by comparison with pretty much anywhere else in the world" the UK is "comfortable" in racial harmony.
When describing where Britain would be without Windrush he told Nick: "A less cheerful place, probably a less talented place and a less winning place. The Windrush voyages themselves were an extraordinary group of people."
Sir Trevor Phillips, who was Chair of the Equality and Human Rights Commission between 2007 and 2012, continued: "One of the things that we often forget about immigration is that the people who actually get on a boat and travel 5000 miles into, they quite don't know what, these are different people.
"These are the adventurous ones, the ones with talent and confidence because they reckon that wherever they go they will make a life."
READ MORE: David Lammy attacks 'abominable' treatment of Windrush generation by state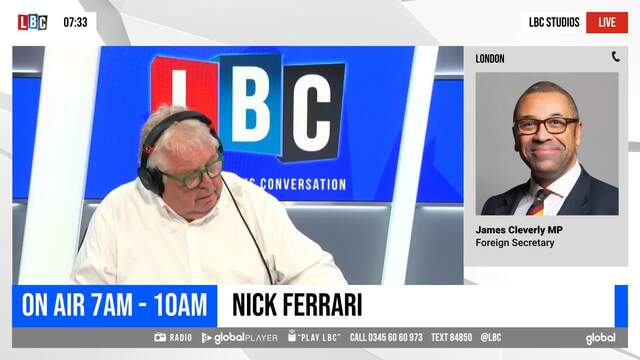 'A time of great celebration': James Cleverly 'proud' of Britain because of Windrush
READ MORE: Caller from Windrush generation believes Channel migrants should be 'sent back'
Foreign Secretary, James Cleverly told Nick earlier in the show that "the UK is an immeasurably better place," because of Windrush.
Mr Cleverly said it is: "A more vibrant and more diverse and more exciting place because of those pioneering people from the Windrush generation. I'm very proud of the fact the UK is a comfortably multi-racial, multicultural country."
Sir Trevor Phillips agreed with the government minister, saying: "He's absolutely right. Of course not everything is perfect. Of course, there are still idiots here as there are anywhere else. But I think that the important thing is that what is considered normal in this country is very different to elsewhere."
READ MORE: 'You've given me the gift of life': Cancer patient, 29, thanks LBC listeners who raised tens of thousands for treatment
"I mean, the great success perhaps of the Windrush generation and their legacy is to make the idea of being black and British ordinary," he said.