'Why not treat them as human beings?': Caller defends Diane Abbott's controversial migrant tweet
10 August 2023, 11:26
Furious caller defends Diane Abbott's 'factual statement' in response to Lee Anderson
This furious caller supports Independent MP Diane Abbott's retaliation to Lee Anderson's controversial migrant comments.
A migrant boat capsised off the coast of Tunisia, tragically claiming 41 lives, leaving only four survivors.
Caller Moses began by questioning Nick Ferrari at Breakfast, saying: "What's the name of one of the people that drowned in Lampedusa, name me one, you can't name me one.
"But had they been Ukrainian, you would know their name, you'd know they were from Kharkiv, you'd know their family history."
Continuing, Moses asserted: "But would you do a story about them?"
"Would you go to their hometown and ask them why they took this perilous journey? Why did they put themselves through this perilous journey? Why are they not being treated as human beings?"
Progressing their conversation, Nick refined his questioning to focus on the recently deleted tweet from MP Diane Abbott.
Referencing Mr Anderson's comments, Ms Abbott tweeted: "These migrants have indeed f***ed off. To the bottom of the sea."
The tweet has since been deleted.
READ MORE: Diane Abbott says migrants 'have indeed f***ed off' in attack on Lee Anderson as 41 drown in tragedy off Italy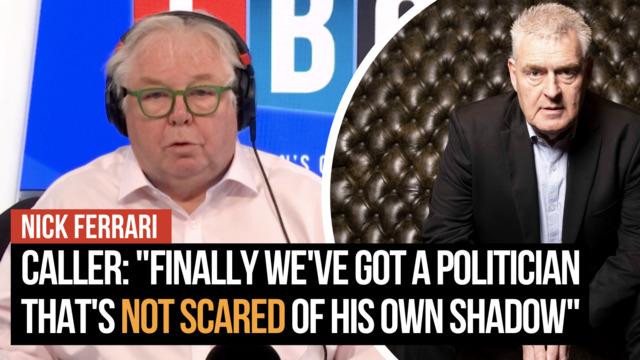 Callers clash over Lee Anderson 'f*** off' comments
Read more: Downing Street backs unrepentant Lee Anderson as he refuses to apologise for migrant comments
Nick quizzed Moses, stating: "How appropriate was it for Dianne Abbot to send that tweet?"
Moses replied" "What's not appropriate about it?"
Retaliating to his comment, Nick asked: "So it's okay to exploit the death of 41 people for political gain?"
Asserting his viewpoint Moses said: "Had they been white Europeans, you would have given them the same dignity that you have given them.
"You can't even name one, you can't name the ones that drowned in the Channel".
Moses argued that the "Conservative fascistic government" escalated the migrant crisis, to which Nick replied: "You're telling me that 45 people boarded a craft in Tunisia because of Conservative policies?"
Lee Anderson refused to apologise for his comments about migrants on Tuesday evening after he originally said those unhappy with the Bibby Stockholm should "f*** off back to France".
Read more: 'It reflects the real frustrations people have': Roads Minister insists Lee Anderson's migrant comments were 'fair'
Asserting his stance, Nick stated that the migrants "wouldn't know who Lee Anderson was".
Concluding, Nick said: "Moses, I get that you think that it's perfectly acceptable to use the deaths of 41 people in this fashion".
It comes after the first group of 15 migrants boarded the Bibby Stockholm barge in Dorset on Monday but it emerged that 20 did not board after their transfers were "cancelled" by refugee charity lawyers.