'He's absolutely ruined my business!': Irate caller says Sadiq Khan's ULEZ expansion has cost Labour the next election
24 January 2023, 10:55
This plumber says Sadiq Khan's ULEZ expansion has 'absolutely ruined' his business
"I will never ever vote for Labour!" says this infuriated caller, who claims Sadiq Khan's expansion of ULEZ to the whole of London is "killing tradesmen" like him.
A plumber called Nick Ferrari at Breakfast on LBC to vent his anger at the Mayor of London, saying his extension of ULEZ to the entirety of the capital hs crippled his business.
Eric in Enfield called it "the biggest scandal of the century", explaining it is "unsustainable" for him to pay a ULEZ charge of £12.50 out of a £30 or £40 plumbing job.
READ MORE: ULEZ expansion will put 'enormous' financial pressure on the NHS and carers, warns Care England chief
"I've been a long-time Labour supporter", he said. "I will never ever vote for Labour because of Sadiq Khan, what he has done."
The caller in Enfield claimed the London Mayor "is in a different world" and has "just lost Labour the next election".
Eric said: "He's absolutely ruined my business 30 per cent while introducing ULEZ, and now he's heading to ruin my business 100 per cent!"
READ MORE: 'Appalling' councils are fining Londoners £100m for driving through LTNs, says mother of girl killed by toxic air
Nick asked: "Hang on, don't you want to breathe, don't you want your children and grandchildren to breathe cleaner air Eric?"
"It's a load of rubbish, it's all to do with money!" the caller replied, seething with rage. "He's killing tradesmen like me."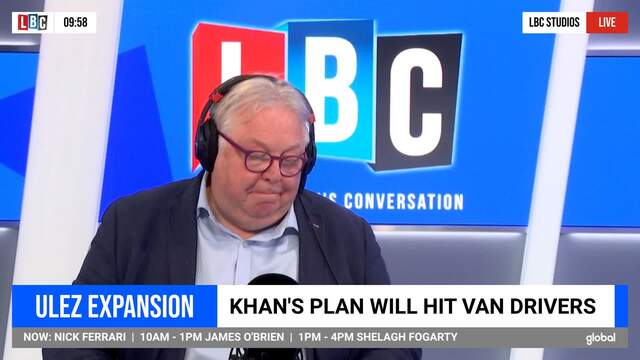 Caller clash: These callers row over the expense of Sadiq Khan's ULEZ expansion.
Eric explained that he "just finished paying" for a van, which is "hardly worth anything" now, and "there's no vans on the market".
He explained to lease one now would be nearly £500 including "hidden costs", and to get a ULEZ compliant one with "decent mileage" outright would be around £15,000 which he cannot afford.
The caller also did not hold back with the leader of the Labour Party: "Keir Starmer - I had lots of respect for him. Absolutely chucked him in the bin this morning when I heard what he said.
"He knows this injustice, he knows it's unfair and he knows it's wrong."
READ MORE: 'He's right': Sir Keir backs Sadiq on ULEZ expansion
"When you hear another senior Labour MP David Lammy say 'but we've got public transport' how would you respond?" Nick asked.
"Haha okay, tell him to come in my shoes, carry my ladder, carry my pipes, carry my tool case and go on the London underground - and I also have the risk of being mugged and killed as well. No thank you!" Eric replied.