David Davis: I Don't Have To Be Very Clever To Do My Job
11 December 2017, 09:46 | Updated: 18 December 2017, 13:44
The Brexit Secretary said he doesn't have to do very much other than remain calm.
David Davis has said that he doesn't have to be very clever to do his job and that the main requirement is the ability to remain calm.
He was speaking to Nick Ferrari following Friday's celebratory Brussels breakfast, which marked the conclusion of the first section of Brexit negotiations.
Phase two can now start next year, including discussion of the future trade relationship, after the UK and EU reached agreement on the divorce bill, the Irish border and citizens rights.
The Brexit Secretary said that an ability to remain calm was far more important in his securing of the deal, which involved a late night rush across the channel, than whether he was clever or not.
He said: "We went out in the middle of the night, in the very early morning.
"What's a requirement of my job? I don't have to be very clever, I don't have to know that much, I do just have to be calm.
"That did test the calmness a little bit.
"Anybody can do details, we'll let you do the details."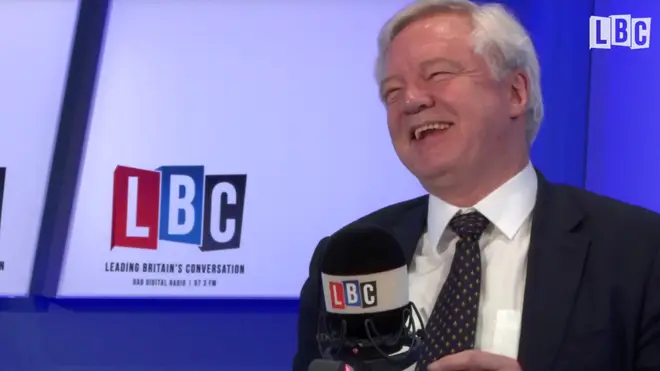 The Conservative MP also rowed back from comments he made yesterday on the Andrew Marr show, having said that the Irish border solution was not legally enforceable.
He clarified to Nick that the agreement is "more than legally enforceable" and rebuked today's Times front page reporting the appearance and resultant concern in Ireland as "convoluted" - "they've completely twisted my words."
Davis also said the Chancellor "mis-spoke" when he said the UK will have to pay a divorce bill even if we leave the EU without a deal.
Part of last week's agreement in Brussels included a financial settlement of up to £39 billion.
But David Davis insists "nothing is agreed until everything is agreed".
Watch the clip at the top of this page or the full interview below.