Deliveroo Driver's Chilling Account Of Being An Acid Attack Victim
4 August 2017, 10:34 | Updated: 4 August 2017, 10:41
This is the terrifying account from a Deliveroo driver of what it's like to be the victim of an acid attack.
- Moped crime and acid attack: Why they are rocketing and the police can't stop it
Jabed Hussain was the victim in the first of five acid attacks in just 73 minutes across Hackney and Islington on 13th July.
Speaking to Nick Ferrari on LBC, he revealed the panic the moment the attack happened and the sheer pain he suffered.
He said: "I was lucky to save my face. That is something that you can't hide.
"As I was waiting at traffic lights, I heard the sound of water on my helmet. I looked on my left and I saw two boys with masks on who came next to me.
"As they went to do the second attack, I leapt from the bike and ran to a few cars behind and began screaming for water."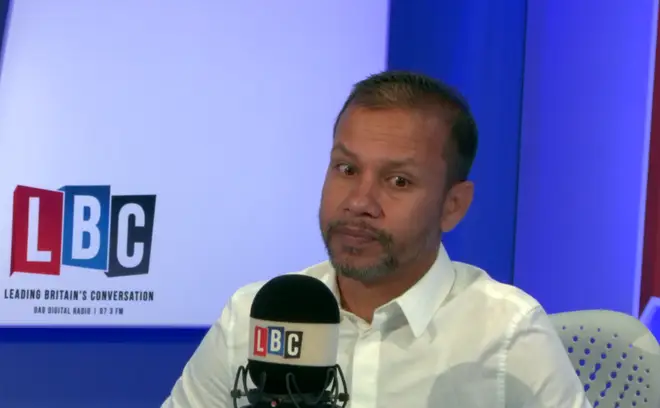 When the acid hit him, Mr Hussain described the burning sensation as "like fire on my face", adding: "It was burning. I was going crazy."
He said that water immediately eases the burning of the acid, but as soon as you stop watering, the pain restarts.
Mr Hussain is no longer a delivery driver and said many of his former colleages don't want to work in Hackney any more because they do not feel safe.