'If I was that desperate, I'd live in a tent in Trafalgar Square': Debate erupts as Nick Ferrari callers contest migrant comments
9 August 2023, 10:49 | Updated: 9 August 2023, 12:25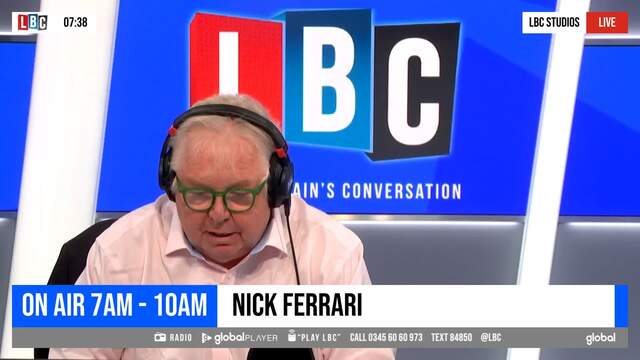 Nick Ferrari callers Sian and Rita disagree over Lee Anderson's 'f-off' comment
Two callers dispute comments made by Lee Anderson, after migrants were told to "f-off" back to France if they disliked the accommodation offered.
It comes after the first group of 15 migrants boarded the controversial barge on Monday.
Speaking to Nick Ferrari at Breakfast, caller Sian asserted her support for Lee Anderson's comments, stating: "I am with him."
She added: "I'm grateful we've finally got a politician who isn't scared of his own shadow."
Sian told Nick that "deep down" she believed the country was "fed up" with the ongoing migrant crisis.
Over 3,000 migrants crossed the channel in July this year, with French riots leading to an increase in small boats arriving in the UK, the immigration minister told LBC.
Robert Jenrick told Nick around 50 per cent of boats destined for the UK are stopped by the French border force, though this figure "varies" depending on domestic issues.
Supporting Lee Anderson's comments, Sian highlighted that the comment was intended "collectively" rather than being intended for one specific migrant, adding: "These people want to come here because we're soft."
READ MORE: French riots led to an increase in small boats arriving in the UK, immigration minister tells LBC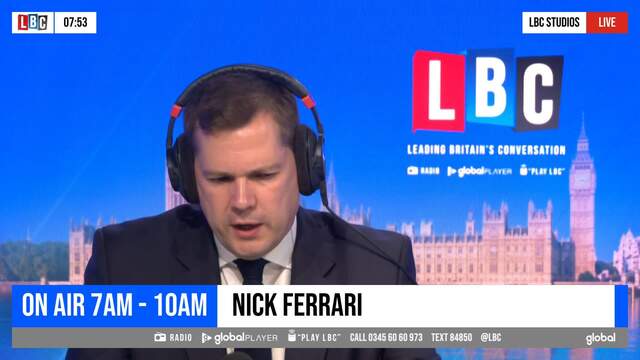 Robert Jenrick: Riots in France have drawn resources away from protecting the border
Read More: 'Crooked' lawyers who help small boats migrants lie to 'game immigration system' face life in prison
Introducing caller Rita into the conversation, Nick said: "Sian has said Lee Anderson is speaking for the country, is he speaking for you?"
Replying, Rita stated: "No one who is so crude and vulgar speaks for me."
When asked what she thought of Lee Anderson's comments, Rita asserted: "It's populist claptrap."
Disagreeing with Rita's viewpoint, Sian said: "No, it's not Rita, the genuine we give asylum to, if I was that desperate, I'd live in a tent in Trafalgar Square."
Rita asserted that the Bibby Stockholm barge was a continuation of a "legacy of colonialism and enslavement".
Condemning her comments, Sian retaliated stating: "It's nothing to do with colour" adding: "We're holding them in a secure environment because they've not yet gone through customs.
"They've not yet been processed, just like we go through Gatwick or Heathrow we are held within a security area until we can show our passports".
READ MORE: Downing Street backs unrepentant Lee Anderson as he refuses to apologise for migrant comments
Sian questioned Rita, asking if she would prefer if migrants were allowed to "run free" after arriving in the UK, to which Rita replied, "No not at all".
Following her opposition to the Bibby Stockholm, Nick asked Rita: "What would you do with these individuals?"
Replying, Rita said: "I would be more humane."
Justice Secretary Alex Chalk defended his colleague Mr Anderson's "f*** off back to France" comment – arguing that it was "salty" language but his point was "not unreasonable".
Mr Anderson also hit out at the Labour Party on Tuesday evening, as he mocked the party's lack of reaction and claimed: "their silence is deafening".