Farage: "Brendan Cox Knows More About Extremism Than Me"
20 December 2016, 09:54 | Updated: 20 December 2016, 12:03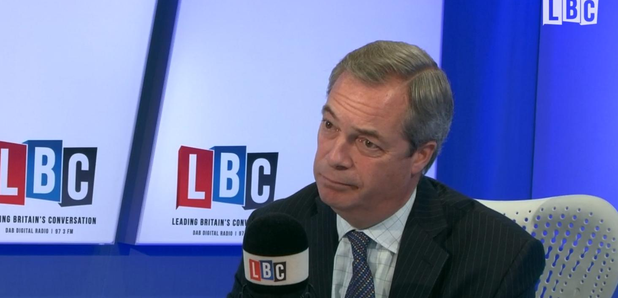 The EU Leave campaigner criticised the widow of MP Jo Cox for his support of the group 'Hope Not Hate'.
Appearing on the breakfast show with Nick Ferrari, the former Ukip leader hit back at Mr Cox after he criticised him on Twitter following comments Mr Farage made about the Berlin attack.
"Well he would know more about extremists than me" was Nigel Farage's response to a criticism levelled at him by Mr Cox on Twitter.
@Nigel_Farage blaming politicians for the actions of extremists? That's a slippery slope Nigel

— Brendan Cox (@MrBrendanCox) December 20, 2016
Mr Farage went on to criticise Mr Cox, whose wife was killed by a right-wing terrorist a week before the EU Referendum in June, for his association with 'Hope Not Hate'. He described the group as "masquerading as lovely and peaceful, but actually pursue violent and very undemocratic means."
The group "campaigns to counter racism and fascism" and aims to build "community resilience against extremism." They campaigned heavily against Ukip in the run up to the 2014 European Elections.
Mr Farage went on to reaffirm his view that Mr Cox criticised, saying that the blame for the attack in Germany lies with the politicians of that country, most notably Angela Merkel.
"I'm sorry, Mr Cox, but it is time people started to take responsibility for what happened.
"Ms. Merkel has been directly responsible for a whole range of of social and terrorist problems in Germany. It's about time we confronted that truth."
Nick pointed out that as a man who had lost his wife and the mother to his two children because of the actions of a terrorist, few people have suffered the effects of extremism more acutely than Mr Cox. But Mr Farage suggested that if he wants to make public statements then he needs to be prepared to be challenged.
"It's a terrible thing what happened to his family, with the murder of his wife. But he continues to be active in the political arena, and given some of the organisations that he supports, I can't just stand here and say 'I'm not going to respond'."
Hope Not Hate have responded to Farage's comments, saying: "We are aware of a serious and potentially libellous statement made about Hope Not Hope by Nigel Farage on LBC radio this morning.
"We have no idea on what Mr Farage bases his outrageous comments. Hope Not Hate has a proud history of campaigning against extremism and hatred.
"We will not be making any further comment until we have had the opportunity to consult with our lawyers."