Former FBI Director James Comey's Comments On Donald Trump Are Brutal
22 June 2018, 07:35 | Updated: 22 June 2018, 08:44
James Comey found out he was being fired by Donald Trump by seeing it on TV. He told Nick Ferrari the truth of his relationship with the President of the US.
The former FBI Director was credited with turning the election in favour of Mr Trump after he announced an investigation into Hillary Clinton's email use shortly before the vote.
But his relationship with Trump turned sour and he was fired by the new President.
In a fascinating interview with Nick Ferrari, he describes his intimate dinners with Trump.
He said: "I never saw him laugh and I had dinner alone with him for about an hour and a half.
"He talks nearly the entire time and it's about him telling you how great he is and seeking your affirmation. But there's no humour, which is deeply concerning in a leader."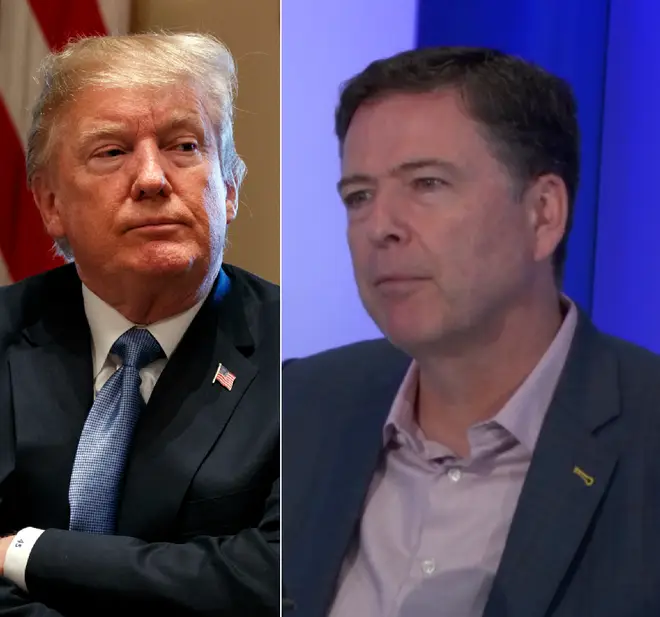 Mr Comey was extremely critical of the separation of immigrant children from their parents on the US border, but believes it may have led to the tide turning on the public's perception of Trump.
"It's a shameful thing," he said. "If there's any good in it, it may be awakening the American people to the way in which our values are being affected by this President."
He believes the US has regressed to similar levels as the 1950s in terms of racism and intolerance, adding: "I think it's very similar.
"We're in a period of reaction and pain and retrenchment. And we're led by someone who exploits that at the expense of the centre of America, which is our values.
"But the good news is, we always get back on track. I live in a wonderful diverse country, which is often messy and bumpy. We make great progress, we then retrench, then we make great progress again. We will be ok."
Watch: James Comey Speaks To Nick Ferrari In Full