Nick Ferrari condemns the Met's 'lacklustre' response to Jihad chants at pro-Palestinian rally
24 October 2023, 10:24 | Updated: 24 October 2023, 14:59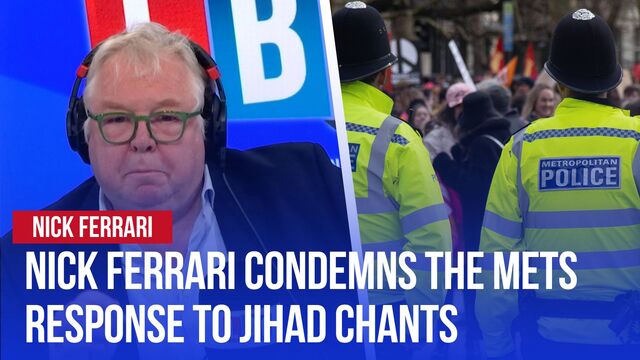 Nick Ferrari condemns the Mets response to Jihad chants
Nick is left astounded as the Met Commissioner justifies the decision not to intervene while protesters 'effectively chanted death to the Jews' at a pro-Palestinian demonstration.
At Breakfast, Nick Ferarri delivered this monologue after Met Commissioner Sir Mark Rowley said his officers cannot "enforce taste and decency" after concerns were raised over officers who allowed 'jihad' chants at a pro-Palestine protest.
Nick said, "Is this the same Metropolitan Police?
"At the vigil for Sarah Everard, they were able to arrest those female protesters, and they were fairly heavy-handed in doing so, even flattening two of them to the ground.
"Is that the same Met that just watches as Pro-Palestinian demonstrators talk about concentration camps and murder?
"Is it the same Met that, on the day of the coronation of the king, arrested people for the well-known crime of having posters and a banner? They arrested them!"
It comes after the Metropolitan Police said it was told about clips showing a man at a Hizb ut-Tahrir protest chanting "jihad" during a campaign in London on Saturday.
The Home Secretary Suella Braverman confronted Mr Rowley on Monday about why officers allowed the chants to go ahead.
Read more: Met 'cannot enforce taste and decency', Commissioner says after Home Sec questions why officers allowed 'jihad' chant
Nick continued: "Is this the same Met that does nothing when someone chants about concentration camps and murder, but you arrest people for carrying poles, which you believe will be used to create banners on the coronation day, or for women who held a vigil for someone that your own officers murdered?
"Is that the same Met?
"And in the same city, you have two other incidents where people can effectively chant 'death to the Jews,' and people just stand by and watch."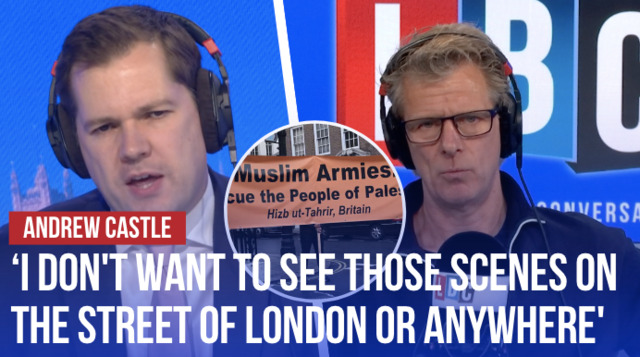 Chants at pro-Palestine march were 'incendiary' says top MP
Referencing the Mets response to the chants, Immigration Minister Rober Jenrick spoke to LBC's Andrew Castle on Sunday morning, saying: "I think a lot of people would find the Metropolitan Police analysis surprising and that's something we intend to raise with them and to discuss this incident with them."
He added: "I don't think that there's any place for chants of 'jihad' on the streets of Britain, I think that's totally unacceptable."
Read more: Six Brits still missing after Hamas attack, minister reveals after two Israeli hostages are freed