Dominic Grieve Blames Newspapers For Death Threats He Received Over Brexit
5 January 2018, 08:43 | Updated: 5 January 2018, 17:03
Dominic Grieve said the newspapers are to blame after revealing he has received five death threats since the Telegraph's "Mutineers" headline.
That is the name given to given to the Conservative MP by the newspaper after he led the rebellion on the crucial EU Withdrawal Bill in November last year.
And speaking to Nick Ferrari, he said he could draw a link between the death threats and the newspaper as the messages often came with cuttings.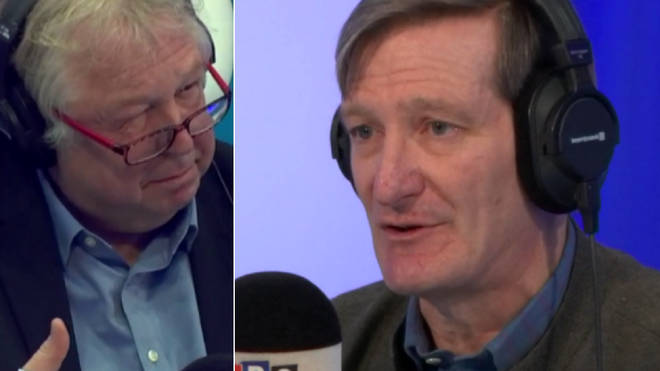 He told LBC: "Some newspapers certainly seem to me to fuel an atmosphere of crisis and hatred which isn't justified by rational analysis and that then gets picked up in social media and you get a deluge of death threats.
"I think a trend towards this kind of violent expression of views and it's been going on for some time, it's not confined to this.
"And I think that the media have a responsibility about the way they report. Of course they're going to criticise if the media think I've done something wrong.
"The Daily Mail is entitled to express its view on it, but the manner in which that done and the way it's done clearly has a clear link to the threats you then get.
"I mean very frequently you get letters which enclose the newspaper cuttings. So you get the cutting and then accompanying it, 'You are a traitor', you know, 'You don't deserve to live' or whatever else.
"And so you can see the causal connection."
Dominic Grieve Live On LBC - In Full