Nick Ferrari Hangs Up On Bridge Protester After Bad-Tempered Interview
20 November 2018, 08:45 | Updated: 20 November 2018, 09:23
Nick Ferrari was involved in a bad-tempered row with one of the organisers of the bridge protest in London on Saturday when he couldn't even say what they wanted to achieve.
Roger Hallam is the co-Founder of Extinction Rebellion, the group which blocked five bridges in the capital, causing travel chaos and stopping emergency vehicles getting to incidents.
He told Nick that raising awareness of issues around the the government's inaction on climate change, saying we face the greatest threat to humanity in history.
But when Nick asked him what measures he would like the government to take, Mr Hallam simply didn't have an answer - and that's when the conversation really heated up.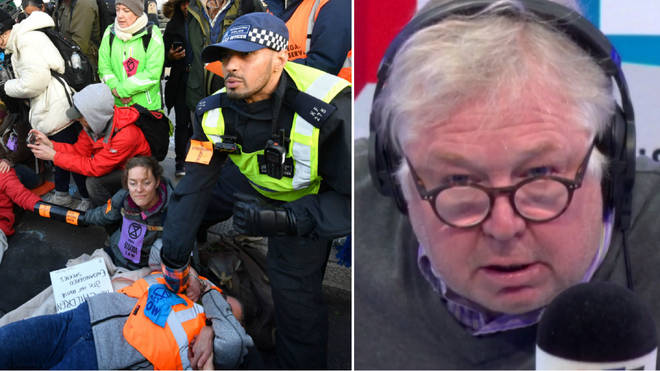 Nick told him: "You're not answering me. I'm trying to ask you what policies would you like to see implemented in Britain?"
Mr Hallam responded: "I want the British government to reduce carbon emissions by 2025."
Yet again Nick asked: "How? How are they going to do this?
"I don't know whether you're doing this deliberately. Are you suggesting that every car should be banned? Are you suggesting we should plant more trees? Are you suggesting everyone should go to work on a bicycle?
"I'm trying to get to practical measures by which you want to get this done, Mr Hallam."
But when he gave a generic response again, Nick said: "You don't know, do you? You actually haven't got a clue.
"You know what you don't like and I appreciate that. But you haven't got a clue what you do want."
Things then got even more heated, with Nick calling him "puerile" before hanging up on the protester.
Watch the video in full at the top of the page.