'As I came around, I knew there was something wrong': Tourist reveals harrowing post-plastic surgery ordeal in Turkey
14 September 2023, 10:33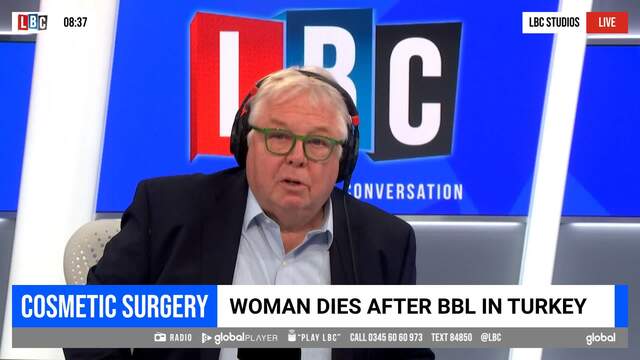 Pinky Jolley recounts to Nick Ferrari how surgery complications in Turkey have affected her ongoing health, putting her in "severe pain" and making it impossible for her to eat and drink.
Ms Jolley, who suffers from Fibromyalgia, spoke to Nick Ferrari at Breakfast after her unsuccessful weight-loss surgery last November.
Explaining what happened to her, she said to Nick: "Apparently the surgery went well, but as soon as I came around, I knew there was something wrong.
"I was in severe pain. I live with a lot of pain, and conditions and this was just so much difference."
Nick asked: "When you told the hospital staff in Turkey, what was their reaction?"
She replied: "They just kept saying it's normal and it's the gas from the operation and keep on walking. But I'm a wheelchair user."
READ MORE: Sara Sharif's mother says 'weight has been lifted' as girl's father, stepmother and uncle arrested after returning to UK
The conversation comes after Melissa Kerr, a 31-year-old woman from Norfolk, did not receive sufficient information to make an informed and safe decision about undergoing buttock enlargement surgery in Turkey.
Melissa passed away after traveling to the Medicana Haznedar Hospital in Istanbul for the procedure in 2019.
Ms Jolley continued: "Once I got home, I got straight on to my doctors and asked for a blood test."
After finding "massive amounts" of infection, Ms Jolley told Nick she was rushed to hospital.
She said: "They detected a leak after doing a C.T. scan and then told me I've got sepsis as well...all my food is having to come through a tube."
Nick then asked: "Do you mind me asking, how long is that for the rest of your life?"
She answered: "It could be quite a complex case because there are so many things I found it will take my case on that they do need about £5,000 up front."
READ MORE: Influencer Oli London 'living as Ken' after detransitioning from Barbie look that cost him almost £250k in surgery