This Woman Brilliantly Dismantles Chancellor's Autumn Statement Point-By-Point
24 November 2016, 07:52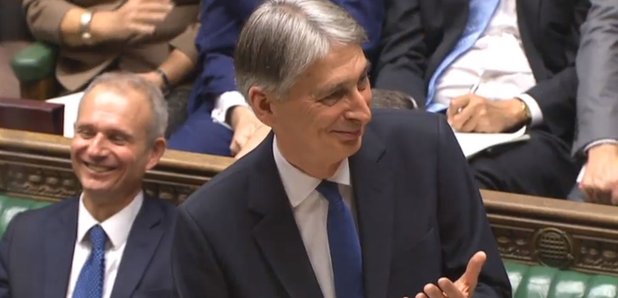 Vicky Charles is a single mum who works full time and is 'Just About Managing'. She listened to the Chancellor deliver his Autumn Statement... and didn't like what she heard.
Ms Charles doesn't pull any punches as she insists Mr Hammond has never had to work for £7.50 per month, has never rented a flat from an estate agent and is trying to trick us over petrol prices.
Listen as she dismantles Mr Hammond's Autumn Statement point-by-point.
On JAMs: "I resent being called a JAM, rather than us being real people, with real stories and real problems. We're just JAMs now. I don't like that at all."
On the National Living Wage: "It's insulting. Has this man in his life ever worked for £7.50 an hour. I'm guessing not. Most people don't want to have to work for £7.50 per hour. Change the name from Living Wage to Just About Getting By wage, because it's not a living wage for £7.50 an hour."
On the '£500 payrise': "If you give me £500, that would make a difference to my life. But the fact is that the people making these rules have never in their lives had to try to live sensibly on £7.50 an hour and I would love for them to try and then pat me on the head and tell me you've done me a favour. Right now, you've done nothing for me."
On the letting fee ban: "I've literally just moved into a property that I'm renting from a letting agent. What planet does he live on? Clearly he never rents anything through an estate agent. It's complete rubbish. It's not going to help. Not to be unpleasant about estate agents, but we know some of them are quite slippery and if they don't want to do that, they're not going to do that. They will find a way around it and I, as the tenant, will end up paying for it either way. To think otherwise smacks of someone who has never had to use a letting agent, except to rent out their second or third home."
On the futy duel rise cancellation: "When he says they are cancelling the fuel duty rise, it's a load of hyperbole. They weren't planning to increase it in the first place. They just want to look good. It's ridiculous."
On saying the economy must be 'match fit for Brexit': "It sounds like he's writing headlines for people, coming out with all of these slogans and catchphrases. The fact is that nobody's ever left Europe before, so nobody knows what's going to happen. They don't have a clue and instead of saying 'Don't know, but you voted for it, so let's give it a go', they're going 'Yeah, we're going to be match fit'. They haven't got a clue. It's embarrassing."
On the Autumn Statement: "It's just been more of the same for me. Mr Hammond, I'm not impressed with your Autumn Statement. Come back to me when you've got something that's actually going to help my life."