Boris Johnson 'misled' the country over Brexit, declares this adamant Nick Ferrari caller
22 September 2023, 13:29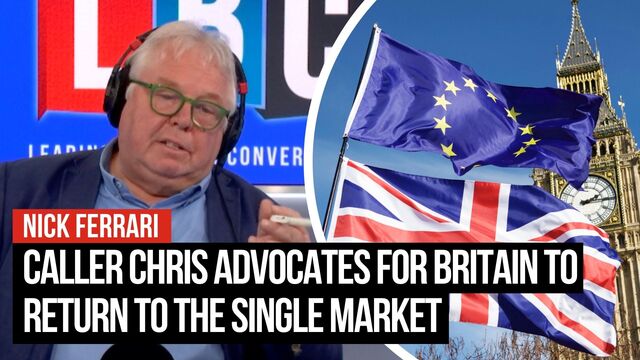 Nick Ferrari speaks to caller who advocates for Brits returning to the single market
As Keir Starmer concludes his trip to Paris, with hopes of associated EU membership, Nick and caller Chris engage in a heated discussion over the benefits of rejoining the single market.
Nick Ferrari at Breakfast began by quizzing caller Chris, stating: "What would you want to see then? How would you want to see a relationship with a Europe brokered?"
Replying to Nick, Chris declared he would like to see the UK return to the single market, explaining it would enable us to "bring back the people" to bolster the NHS and reduce the operations waiting list.
Adding to his point, Chris told Nick that returning to the single market queues at the border would decrease and travel in the EU would be more fluid.
Disputing the caller's viewpoint, Nick asserted: "You know, rightly or wrongly, that ship has sailed now, Chris".
In retaliation, Chris brought up the point of opinion polls, stating: "Over 60% of people want us to rejoin, I thought you believed in opinion polls Nick? You quote them all the time on the show".
Replying, Nick added: "I'm sure if I had time, I could find you another poll that probably says people just want to get on with the rest of their lives".
Labour leader Sir Keir Starmer finished up his trip to Paris earlier this week, where he met with Emmanuel Macron, as France and Germany prepared to unveil a vision of a four-tier Europe that would offer the UK access to the single market.
Read more: Jeremy Hunt warns Keir Starmer's EU stance could 'unpick Brexit' and worry Leave voters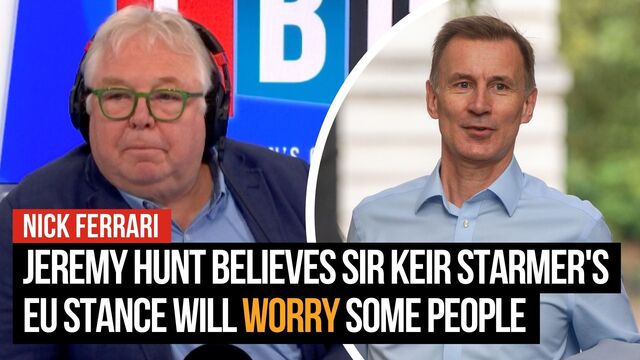 Nick Ferrari discusses Brexit with Jeremy Hunt
Keir Starmer acknowledged that a Labour government would seek significant rewrites of Boris Johnson's Brexit deal when it reaches a review point in 2025.
The visit has evoked backlash amongst brexiteers, who dispute the decision to rejoin the single market.
Nick asserted: "Look at the row this has caused with Sir Keir, the man has just briefly mentioned the word Europe and half the world blows up.
"Any politician that is going to say the future is to go back in the European Union, is going to be ripped to shreds."
Read more: 'Time to see the job through: Jeremy Hunt promises pressure on families will 'ease' as he insists inflation is falling
Acknowledging Nick's argument, Chris stood his ground, stating: "Tory MPs are trying to deny reality" adding: "Boris Johnson stood up in front of a load of businessmen two or three years before the election and misled business leaders".
Disagreeing with this, Nick bit back, noting it was "years ago" drawing the comparison to a divorce, noting: "This is like if you get divorced, you keep going back to the fight over the divorce.
"You have to let it go, it's not healthy".
As part of his global outreach, Starmer has already travelled to the Hague in the Netherlands to discuss migration cooperation, and this weekend attended a gathering of center-left leaders in Montreal.