'I don't know if it's because I have a Russian name': British aristocrat says her bank account was unexplainably closed
5 July 2023, 13:17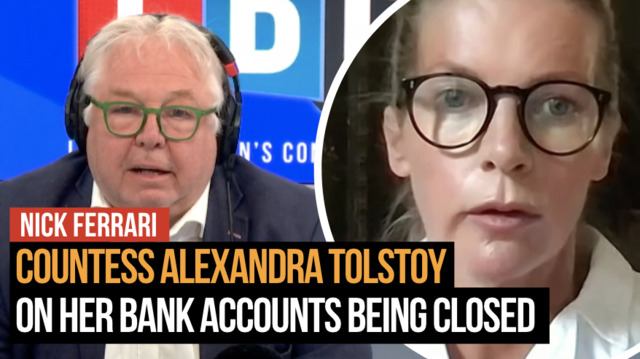 Countess Alexandra Tolstoy joins Nick Ferrari
Countess Alexandra Tolstoy, the former wife to a man dubbed Vladimir Putin's 'banker', told Nick Ferrari how 'absolutely terrified' she is after her bank accounts were closed with no explanation, as Number 10 issues a warning to banks.
The British aristocrat who shares three children with the billionaire financier Pugachev was asked by Nick Ferrari at Breakfast: "What happened to your bank account? How exactly do you run your finances then?"
This comes as UK banks have been told they must not close individuals' accounts for political reasons, in an escalating row over freedom of speech which was sparked by Nigel Farage having his Couts account closed.
The Countess responded: "Two months ago I had a letter through the Royal Mail, a real cursory letter, and it just said we are shutting your accounts within two months. I have a manager who I called and wrote to, she wouldn't answer she wouldn't even acknowledge my messages."
She continued: "By the absolute skin of my teeth I managed to set up another online bank account but I haven't got all my money out of NatWest and they've now told me- we'll send you a check within 60 days in the Royal Mail."
READ MORE: Government should 'act immediately' and 'ban banks closing accounts' over free speech issues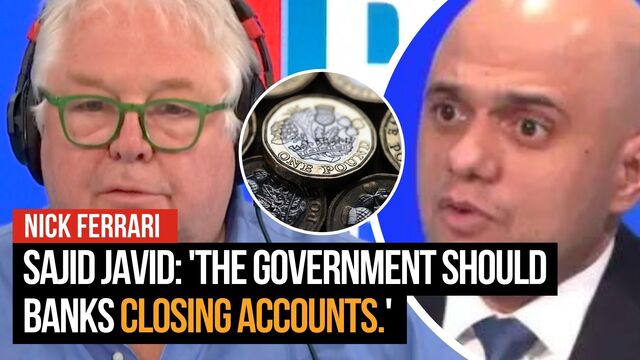 Sajid Javid: 'The government should act on this immediately and ban' banks closing accounts
Nick went on to ask: "Hang on they've not even given all your funds back to you and when you asked for an explanation they have said nothing to you at all?"
Alexandra Tolstoy responded: "I wrote to the CEO, this arrogant woman Alison Rose, who wouldn't answer - one of her minions wrote back to me saying we have followed our rules and we have absolutely no obligation to explain why we have got rid of you and on this basis, we will not meet you or talk to you.
"So I still don't know of what I'm accused I don't know if it's that I've got a Russian name - I don't do anything controversial, I pay my taxes, I run two limited companies - you can see everything."
Nick then asked: "How difficult has this made your life?"
To which she responded: "I have not slept for two months, I'm absolutely terrified. I have three children, I can't pay my mortgage, I can't pay my rent, I can't buy food.
"I think it's totally undemocratic- what country has a system where you can be accused of a crime and not know what the crime is."
Nick concluded: "It's a bit sinister isn't it."
READ MORE: James O'Brien ponders the 'hatred' and 'demonisation' experienced by migrants