'We don't know where to go, we don't know what to do': Caller despairs at poor child health services in Shropshire
11 July 2023, 11:57 | Updated: 11 July 2023, 12:39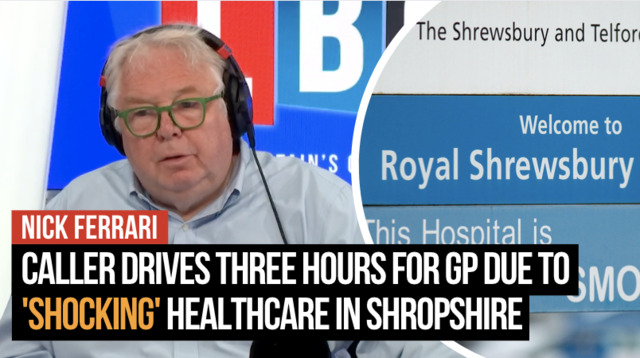 'Shocking' healthcare in Shropshire leaves residents 'terrified'
Nick Ferrari hears from a caller who drives her children "all the way down to London" to see a GP in Fulham because she doesn't trust child healthcare services in her area.
Caller Sophie from Shrewsbury told Nick Ferrari at Breakfast on LBC: "I live in Shrewsbury and it's well known throughout Shropshire how shocking Telford and Shrewsbury are."
This comes after a review in 2022 found catastrophic failures at the Shrewsbury and Telford Hospital Trust contributing to the deaths of more than 200 infants.
Today a review into failings in maternity care at hospitals in Nottingham will be the largest ever carried out in the UK with the chairwoman of the inquiry Donna Ockenden telling a meeting on Monday that 1,700 families cases will have their cases examined.
The caller, Sophie, told Nick: "Everybody is terrified, people are desperate to get private healthcare, you can't get into doctor's surgeries they are full."
"If you have managed to get an appointment you have to wait weeks before you can go."
She explained: "I moved from Fulham back home to Shrewsbury before lockdown. My youngest was 4 or 5 months old and she had tonsillitis really badly and couldn't breathe properly or swallow."
Read More: Mortgage rates soar to highest level for 15 years with average two-year fixed deal hitting 6.66%
Despite being told not to bring her daughter into the hospital by her local GP the caller said that some consultants who lived next door said: "No she needs to be on urgent antibiotics and hospitalised."
She then said: "Everybody in Shropshire doesn't know where to go or what to do and we're all really worried."
Sophie then shared the lengths she has had to go to in ensuring her children get proper care: "I had my children on the NHS back in Chelsea and Westminster… the healthcare is so bad here that I called my old GP in London and they said don't worry even though your living in Shrewsbury you can still use us."
"So," she said, "I drive the children all the way down to London."
Nick, shocked by this, said: "Hold on if you need to see a GP you drive from Shrewsbury to Fulham- that must be about 2 to 3 hours, how long does it take?
"It is just shy of three hours with good traffic" she responded.
"They are the proper GPs that you grow up with which just don't exist across Shropshire."
Read More: Jury retires in trial of nurse Lucy Letby accused of murdering seven babies