Home Office Minister Chris Philp calls out Sadiq Khan for planned ULEZ expansion
24 January 2023, 08:49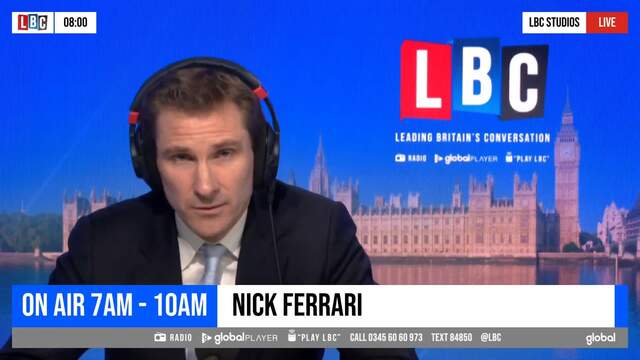 Home Office Minister Chris Philp calls out Sadiq Khan for his planned ULEZ expansion
Tory MP Chris Philp 'totally opposes' Sadiq Khan's move to expand ULEZ branding it 'completely unacceptable'.
With trades people facing yearly bills of more than £3000 under Sadiq Khan's planned ULEZ expansion, former Minister for London Chris Philp condemned the move on Nick Ferrari at Breakfast.
The Home Office Minister told Nick: "I think what Sadiq Khan has done with ULEZ is absolutely shocking. He appears to have fiddled the consultation, thrown away a load of answers he didn't like the sound of, and he's ignored the opinion of Londoners."
"This is the worst possible time, with a cost of living crisis, to be slapping people, often on lower incomes because it's the older cars that are going to get charged, with £3000-£4000 a year in charges just for driving around," he argued.
READ MORE: Brits promised cash for 'optional blackout' as National Grid asks families to turn off power again tonight
The Policing Minster condemned the move: "It's completely unacceptable, it's the wrong time to do it. I know there are valid concerns with air quality but there are other things you can do to address that.
"For example, instead of spending all the money putting up these cameras to try and catch people, spend the money on improving the electric car charging infrastructure so more people are able to make the choice to use electric cars. That would help London's air without penalising people on low income."
He went on to say: "I totally oppose what Sadiq Khan has done, he's ignoring Londoners, it's completely the wrong time to do it. A number of Conservative London boroughs are looking at legally challenging what he's doing, some Conservative London boroughs are saying they're going to refuse to put up the cameras and I completely support them in doing that."
READ MORE: 'The Tory government has turned slimy and needs binning!', says Tom Swarbrick