'There was definitely no rioting': Caller defends social media yobs after Oxford Street chaos
16 August 2023, 09:57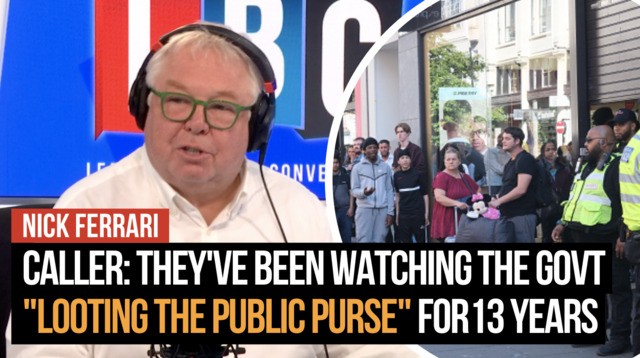 Caller: The young people on Oxford Street were not 'rioting'
This caller explains to Nick Ferrari that the young people on Oxford Street last week have been watching the government "looting the public purse" for the last 13 years.
Steve in Manor Park spoke to Nick Ferrari at Breakfast after Rishi Sunak warned social media yobs tempted to get involved in future antisocial and criminal flashmobs will face the "full force of the law".
The Prime Minister blasted the organising of looting and disruption on social media as "appalling" and "unacceptable".
Steve said: "Number one, I don't think there was a lot of looting that went on. Number two, there was definitely no rioting-"
Nick interrupted: "Because the police acted expediently. Didn't that stop the looting, don't you think?"
Disagreeing, Steve replied: "No, I don't think so not really. I think they were trying to make a point and that's why they publicised it in the media."
Read more: Social media yobs will face 'full force of the law', vows Rishi Sunak after Oxford Street flashmob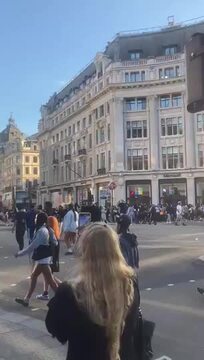 Mayhem on Oxford Street as huge crowds clash with police
It comes after huge crowds of youths clashed with police on Oxford Street last week after a social media call for a "shoplifting rampage".
Steve continued: "These men or women or people or whatever they are have been watching the government for 13 years or more, looting the public purse...they've been watching their parents struggling with two or three jobs in one day every day, trying to pay rent."
For the second time, Nick interrupted: "You're not justifying are you, Steve?"
Steve: "I'm telling you what I think. I'm not justifying it, I am just saying what is going on.
"They felt the need to make a point!"
West End stores were forced to close their shutters and lock customers inside during the looting bid, which was understood to have been inspired by a social media craze encouraging people to take part in an "Oxford Street JD robbery".
The Metropolitan Police arrested nine people and issued 34 dispersal orders during the incident.
Read more: Carnage on Oxford Street as huge crowds clash with police amid social media call for 'mass shoplifting' rampage