Emily Thornberry Wants To Set The Record Straight On Her Views On Brexit
9 May 2018, 08:45 | Updated: 9 May 2018, 08:48
Emily Thornberry told Nick Ferrari she wanted to set the record straight over her views on Brexit after being misquoted in the Daily Telegraph.
The newspaper claimed that "Ms Thornberry suggested Labour wanted the UK to "end up in the same place" as Norway in terms of its future relationship with Brussels."
But speaking to LBC, she refuted the suggestion, saying: "No, I don't think I said that. In fact, I definitely didn't say that. Someone told me this morning that that is what the Daily Telegraph are saying and it simply isn't true."
When Nick asked her if she does want to be in the same place as Norway, Ms Thornberry responded: "No, of course not."
Nick lightheartedly quipped: "No need to be like that Emily, I was only asking what I've read!"
She laughed: "I've just been misquoted, mate. I mean, it gets me upset."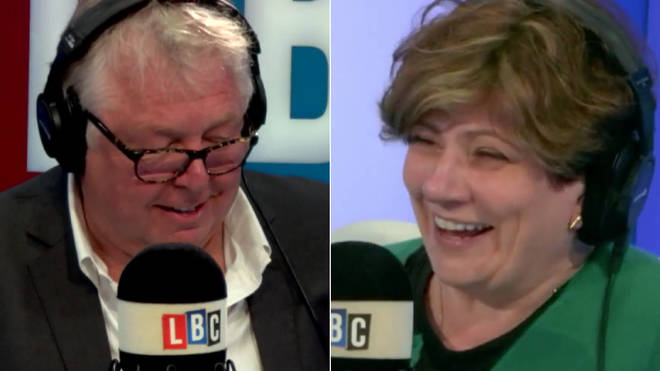 On the Norway point, she insisted: "The Norwegian economy is a small and relatively simple economy. We are the fifth largest economy in the world.
"What we need is a British-style agreement. We need to have something which is relevant to us.
"The Norwegian agreement is for a small country and is 20 years old. We need to have a modern agreement, custom-made for the British needs.
"We need to retain the same benefits we have in the single market and we need to be in a customs union."