'I don't believe anybody has to steal to survive': Gail's chairman gives his views amid shoplifting epidemic
4 September 2023, 10:14 | Updated: 4 September 2023, 10:17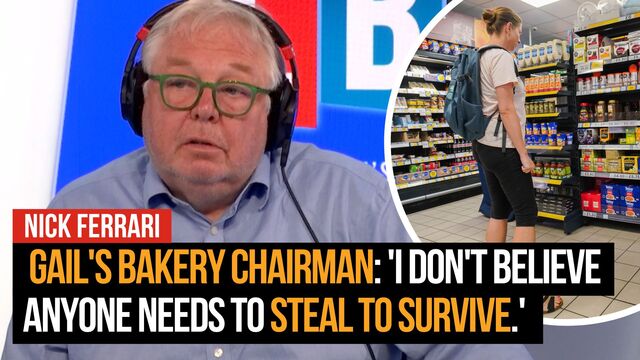 Chairman of Gail's Bakery: 'I don't believe anyone needs to steal to survive.'
After it was announced that Tesco staff will receive body cameras to target in-store violence and shoplifting, Gail's Bakery chairman Luke Johnson told Nick Ferrari society "shouldn't tolerate it."
Mr. Johnson began by vehemently telling Nick Ferrari at Breakfast: "The very name shoplifting is wrong, it's shop theft, I think a lot of people don't treat it like a proper crime, of course, it's a crime."
The conversation comes as Tesco staff are to be offered body cams in an effort to combat shop-related crime, with physical assaults in stores rising by a third since last year.
Mr Johnson continued: "We all pay because the shops have to charge more because the shops have to somehow get the money back because they've suffered this stealing."
"The idea that people can't get help is nonsense, it's barbaric and society shouldn't tolerate it," he went on.
READ MORE: Hundreds of schools still in dark over concrete safety fears as pressure grows on ministers to reveal full list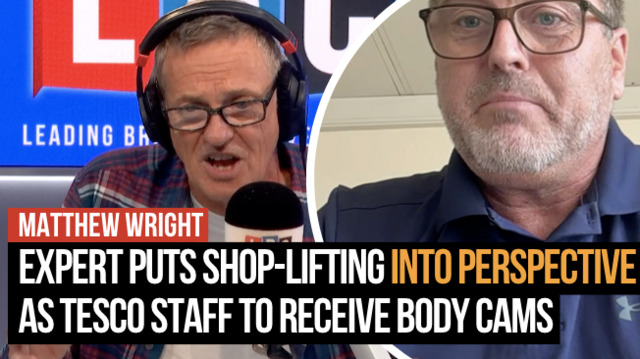 Expert puts shop-lifting into perspective as Tesco staff to receive body cams
READ MORE: Rishi Sunak 'to overturn ban on onshore wind farms' amid concerns over Tory rebellion
Speaking to Matthew Wright on Sunday former DCI and expert on shop-related theft David McKelvy responded to the same story.
Mr McKelvy recounted a story where staff were threatened with a nine-inch knife, offering a first-person perspective on the dangers experienced by shop staff.
Nick asked Mr Johnson if he would feel any sympathy for someone who stole from one of his stores.
He responded: "Well at the end of the day, it's theft, you know, it's not their property."
He concluded: "I don't believe anyone has to steal to survive and therefore I do think the government should prosecute shop thieves."