Moment Hither Green Vigilante Calls LBC To Defend Stamping On Tributes
12 April 2018, 14:28 | Updated: 12 April 2018, 14:46
This is the moment a vigilante who tore down flowers put up by a dead intruder's family and stamped on them called LBC to explain why he did it.
The caller, who did not want to be named, said he had been left "infuriated" that the shrine had been erected near where pensioner Richard Osborn-Brookes stabbed to death Henry Vincent during a break-in.
"If they want to mourn him, put the flowers outside the caravan where he lived," the caller fumed during his conversation with Nick Ferrari.
Loved ones of Vincent started re-attaching tributes on Tuesday, after they were originally ripped down.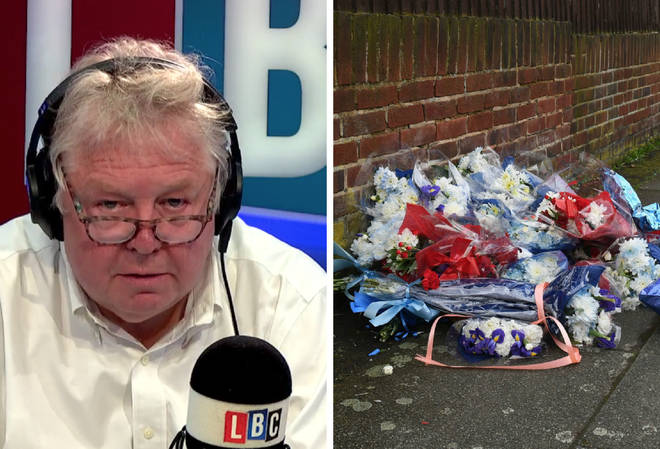 Flowers were then repeatedly torn down and put back up a number of times.
"No one local appreciates those flowers," the caller added.
"The council should stop them, they have no right to put flowers down.
"They shouldn't be allowed to put flowers down on a public highway."
During his call to LBC, the unnamed man said residents would be more tolerant if the flowers were moved away from the pensioner's home.
He continued: "As a vigilante I'd say to them put the flowers further down the road… we're happy to leave them there for a week.
"Then we've got a compromise, but if they're not willing to compromise every time they put them up we're going to take them down again."
Meanwhile, The Deputy Chief of the Metropolitan Police has admitted that anyone removing the shrine could be arrested.
Craig Mackey told LBC: "If you do things where you cause a breach of the peace, disorder in that area, then like anyone, you could end up getting arrested.
"We don't want anyone getting there. It's in everyone's interest - and particularly the local community - that we bring their community back to whatever normal is as quickly as possible.
"There is someone still outstanding on this offence, let's deal with that person."