The Times' Hilarious Cartoon On Trump Allegations
12 January 2017, 07:21 | Updated: 12 January 2017, 07:26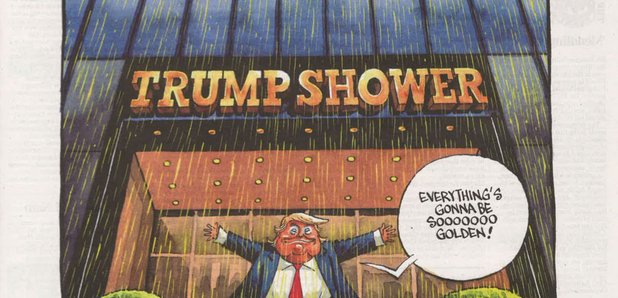 This is the hilarious take on the Donald Trump story from The Times cartoonist Peter Brookes.
A dossier - apparently gleaned from sources in Russia and the US - claimed the Russian regime has been "cultivating, supporting and assisting" Mr Trump for at least five years.
The US President-elect, who is due to be inaugurated next week, dismissed the salacious claims in the 35-page document as "nonsense", "fake news" and "phoney stuff".
But that didn't stop the newspapers poking fun at it - and Nick Ferrari was a big fan of Brookes' effort in today's Times newspaper.
In the cartoon, Trump can be seen standing outside "Trump Shower", while he's standing in some yellow rain, saying "Everything's gonna be sooooo golden!"