'U-turn' required to halt rail ticket office closures, demands Greater Manchester Mayor
1 September 2023, 10:29
Watch Again: Nick Ferrari is joined by Greater Manchester Mayor Andy Burnham | 01/09/23
Rishi Sunak has been urged to cease the closure of rail ticket offices as elderly and disabled passengers will be deterred from rail travel due to complex ticket purchasing options.
Speaking to Nick Ferrari at Breakfast the Labour Mayor of Greater Manchester, Andy Burnham asserted the closure of rail ticket offices is "uniting voters of all parties" and will ultimately "deter people from using the railway".
Hundreds of protestors gathered outside Downing Street on Thursday evening to dispute the closure, marching through Westminster from the Department for Transport.
The proposal from the Conservatives will see 974 ticket offices in England close, with passengers left to navigate apps or electronic machines to purchase a valid ticket.
The Greater Manchester Mayor told Nick he believed the closures would push people back towards using their cars.
He continued noting the challenges the elderly and disabled may face if the closures are carried out, noting: "There will be disabled people who will find it very difficult to use the railways because many of the machines are physically inaccessible to those people".
READ MORE: Rail misery on final weekend of school summer holidays amid fresh wave of strikes - full list of services affected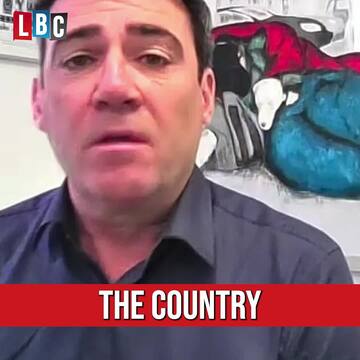 Andy Burnham: Govt needs to negotiate with strikers or leave office
Mr Burnham called for the government to make a "U-turn" on its decision, stating he believed the closures would hinder the railways, forcing "older and disabled people off the railways altogether".
When questioned by Nick as to how often he frequented his local ticket office, Mr Burnham replied: "I use them all the time" adding: "I'll go into the ticket office at Newton Le Willows train station all the time, I appreciate having a chat as well".
Asserting to Nick his view that the railway is being run "in the interests of operators, not in the interests of the travelling public" Mr Burnham declared the railway as "broken".
Read more: Junior doctors and consultants in England to go on joint strike for first time in NHS history amid ongoing pay dispute
Their conversation arose as unions push to save railway ticket offices from closure before the public consultation ends on Friday.
In addition to the ongoing dispute over rail workers' pay, unions have also claimed ticket office closure will further deplete services and deter passengers.
Speaking to Lisa Aziz on Friday morning, the general secretary of Aslef Mick Whelan noted the closures were a "political problem caused by the Westminster government" adding strike action will continue if a resolution is not met.