Wife of Virgin Atlantic pilot details 'horrendous' working conditions, with many suffering 'fatigue' and 'insomnia'
7 August 2023, 10:18
Caller's husband is exhausted working for Virgin Atlantic
Most Virgin Atlantic pilots have witnessed a colleague make a mistake in the cockpit, LBC reveals, as a pilot's wife reveals her husband suffers "long periods of insomnia" due to "pressure and stress".
Speaking to Nick Ferrari at Breakfast, the wife of a Virgin Atlantic pilot detailed the harsh working conditions her husband endures on a daily basis, which has impacted his mental and physical wellbeing.
'Sarah' began by detailing her husband's experience, stating: "He's worked for Virgin Atlantic for ten years, and the stress that they've been under, particularly over the last two and a half years, has just been horrendous.
"He doesn't sleep at night".
A union survey of Virgin Atlantic pilots was handed to staff only last month but the results, seen by LBC, have piled pressure on the airline.
Some 75.6% of the respondents to a survey of nearly 900 pilots at the airline said they had operated with a colleague who was "clearly not fit to do so due to fatigue or tiredness".
Noting her husband's exhaustion, she detailed the experience of his colleagues: "He has so many colleagues where relationships have broken down and stress on the family because they are really you know, they're quite miserable".
Over 88% said that they had experienced or witnessed a colleague make a mistake in the flight deck.
Read More: Most Virgin Atlantic pilots have seen a tired colleague make mistakes as they fear colleagues 'not fit to work'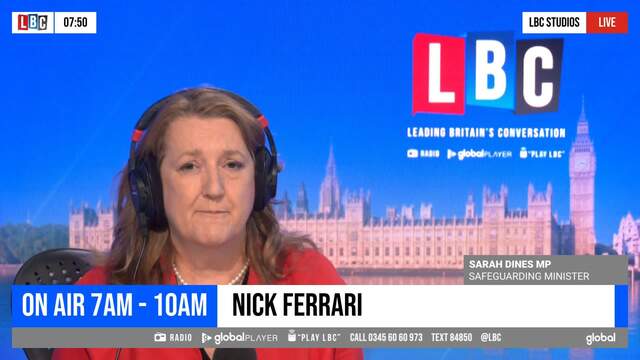 Nick Ferrari presses Safeguarding Minister on fines for those supporting illegal migrants
When questioned by Nick as to what the pilots are saying about the news, Sarah said: "Oh, I think everyone's stuck because they're afraid to put their head up and say, What's going on?
"I think they have a reporting system where they can say whether they're suffering fatigue and the symptoms they suffer and, you know, feeling less able to be alert on the flight deck and stuff."
Noting that many pilots are refraining from reporting the news because "they're afraid of losing their jobs", Sarah added that "many feel unsupported by management too".
Concluding, Sarah told Nick: "I think that Virgin really should take note and realise that they need to look at their own staff and do the best for them as well".
Read more: Pilot carried on flying after thinking co-pilot who suffered cardiac arrest and died was joking around