Cardinal And Archbishop Of Canterbury Respond To Trump's Refugee Ban
2 February 2017, 09:59 | Updated: 2 February 2017, 11:02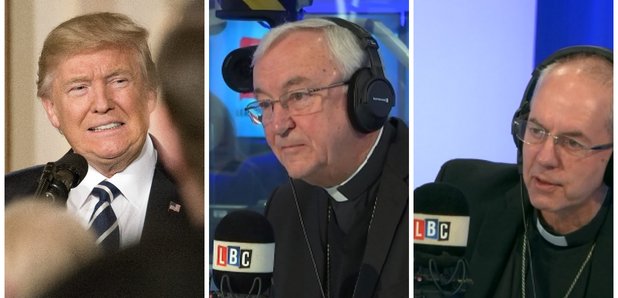 This is what the Archbishop of Canterbury and Cardinal Vincent Nicholls had to say about Trump's refugee ban.
Archbishop of Canterbury Justin Welby and Cardinal Vincent Nicholls were in the LBC studio with Nick Ferrari when he asked about their take on Trump's refugee ban.
This is what Archbishop had to say: "Policies that are based in fear rather than confidence and courage and Christian values of hospitality, of love, of grace, of embrace rather than exclusion, are policies that will lead to terrible results.
"We have to say that when you start dissing whole communities, when you start excluding them, when you start mixing up those- I mean every county is entitled to protect its security but when you mix up genuine threats to security with a dismissal of a whole range of communities out of fear, that's not good.
"The USA is such a fantastic country. It has so much to be confident and positive about. The Anglican leaders over there standing up for those virtues that are deeply embedded. The Catholic leaders as well. I mean we are absolutely at one on this.
"America is built on immigration, on welcome, on courage, on a sense of grace that has inspired the world. They don't need to act out of fear."
Nick then asked the Archbishop whether he would welcome the new US President on a state visit.
The Archbishop said it was a mater for the government to decide but added: "If I had the opportunity to engage with him and to debate with him I would consider it a great privilege to try and persuade him to change his views."
The Cardinal then told Nick what he would say to the President if he met him: "You have to discriminate. It is often unjust not to discriminate. Sometimes we're very fond of saying that all descrimination is wrong. But it isn't.
"We have to justly discriminate and to identify a whole people, a whole nation, or a whole religion, as the enemy, is a desperate road to go down.
"It does two things. One, it creates the impression that Christianity belongs in the West, and therefore puts the Christians in the Middle East at even greater jeopardy.
"And secondly it does nothing to help the Muslim community deal with the tensions within it. So we have to discriminate between people and not put them together. Down that way goes disaster."