Nick Ferrari urges FA to 'show leadership' after apparent reluctance to illuminate Wembley Arch in Israeli colours
12 October 2023, 12:35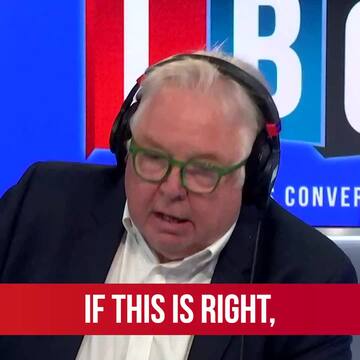 Nick Ferrari on FA appearing 'unlikely' to light Wembley Arch in the colours of Israel's flag
Nick Ferrari expresses strong disapproval of the FA's apparent reluctance to illuminate the Wembley Arch in the vibrant colours of the Israeli flag, deeming them "spineless".
Ahead of the anticipated announcement from the Football Association, as to whether it will illuminate the Wembley arch in the colours of the Israeli flag, Nick asserted his views on the topic to his listeners.
Nick said: "Now these are the same idiots that gave us VAR, which is on a totally different scale I know, but they really are destroying absolutely everything they touch aren't they?'
"So, what this means now is potential lawbreakers have the upper hand".
Noting the Association's previous actions towards the ongoing Russian invasion of Ukraine, Nick asserted: "So you do it for Ukraine, quite rightly because you think well, it's unlikely anybody's going to make any kind of backlash at illegal activities of Russia".
He added: "But you yield, you bow to I'll quote directly 'some communities' because you fear it might upset them".
Read more: Wembley arch 'unlikely' to be illuminated in colours of Israel flag to avoid backlash
It comes after the government wrote a letter encouraging governing bodies in sports to 'appropriately' condemn the attacks on Israel.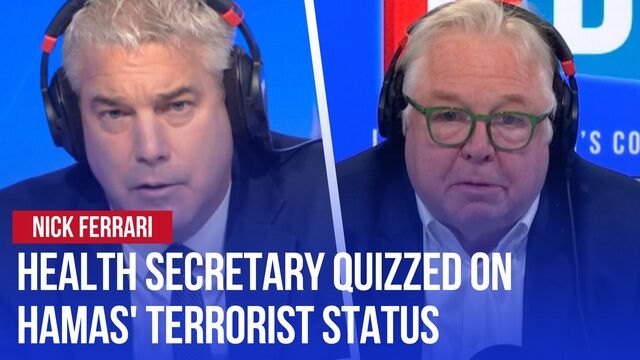 Nick Ferrari quizzes Health Secretary on Hamas' terrorist status
However, it is reported that the arch is 'unlikely' to be lit up in the colours over fears of a backlash.
A message of 'peace and unity' is likely to be conveyed instead before England faces Australia in a friendly on Friday.
Continuing, Nick noted: "Well, can I suggest that anyone who lives here, who in any way sees the marking of the horrors that both sides have been through and are going through, of children being murdered, of holocaust victims being taken hostage, of people being set alight, they really have to question the society they're in".
Believing that we should "show solidarity" with Israel Nick highlighted the Royal Family's condemnation of the attacks.
He said: "It's good enough for the king, It's good enough for Prince William, but it's not good enough for the FA, because they fear a backlash from some communities".
Telling his listeners what actions he'd take, Nick stated: "I'd paint the pitch blue and white if I had the chance.
"I'd put it on the goalposts as well, and if they didn't like it, tough luck.
"You show leadership, that's what you do".
Read more: Israel urges people in its north to find shelter after mistaken 'hostile aircraft' alert