"It Drives Me Mad": Nick Ferrari's Hilarious Rant At 'Trendy Marketing'
4 September 2017, 12:39
Nick Ferrari called for the trendy marketing people who add random characters in brand names to be fired.
An angry Nick was livid that one high street store has changed the phrase Girls and Boys to:
GIRL
S&.B
OYS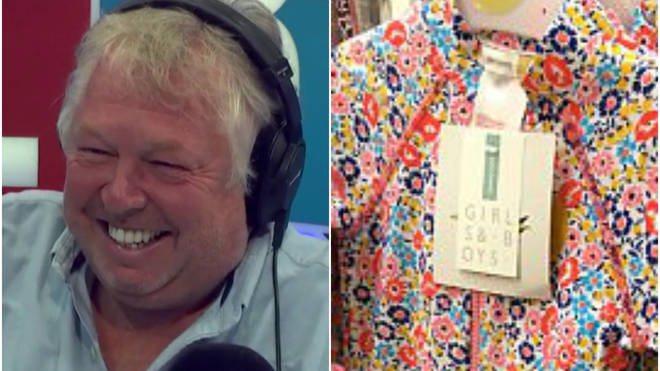 And that decision left Nick livid.
Speaking on his LBC show, he said: "The Daily Mail has a picture which is obviously initially a girl's frock, a very loud floral frock. But the tag says John Lewis Girls And Boys.
"Although in one of those mad marketing things that these idiots with ponytails who drink fizzy water and eat Foxes Glacier Mints all day long, the tag actually goes girl, new line, S ampersand dot B, new line, OYS dot.
Just punch the person who came up with that. What for the love of God does that mean?
"You're fired, get out, just get out. Go and destroy someone else's business. It just drives me mad.
"What's wrong with just saying girls and boys or boys and girls? Girl, new line, S ampersand dot B, new line, OYS dot. What the hell does it mean? No wonder our children are increasingly illiterate."