Kemi Badenoch: 'Depending how you look at it, EU trade is doing well'
31 March 2023, 11:38 | Updated: 31 March 2023, 13:22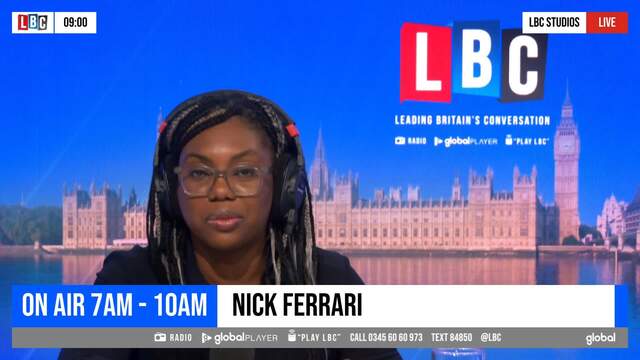 Kemi Badenoch: 'EU trade is doing well'
Business and Trade Minister Kemi Badenoch claimed the government is "still working" on the EU agreement, telling Nick Ferrari she believes the plans give the UK the opportunity to make its "own way in the world".
Secretary of State for the Department for Business and Trade Kemi Badenoch spoke to Nick Ferrari at Breakfast after she hailed Britain's agreement to join the Comprehensive and Progressive Agreement for Trans-Pacific Partnership.
Nick asked Ms. Badenoh, to those who mourn the decision to leave the EU, whether the UK joining the Indo-Pacific bloc "makes up" for it.
She replied: "Well, it's not supposed to make up for it. It's in addition to the free trade agreement that we have with the EU.
"One of the things we have now is the people talk as if we've put up a wall and we don't do anything with the EU at all.
"We are still trading and trading freely, our exports in particular on things like gas have gone up.
"EU trade, depending on how you look at it EU trade is doing well, it's increasing.
I'm not saying it's been easy for everybody. I'm not saying it's been perfect, there are of course consequences to leaving a bloc like that but we are still working on our EU agreement."
READ MORE: Rishi Sunak hails the UK joining Indo-Pacific bloc in Britain's biggest trade deal since Brexit
The new deal takes the UK into a trade deal with countries including Canada, Australia, Japan, and Mexico.
But critics say it will only add 0.08% to the gross national product over 10 years and question why Britain has been so keen to join a Pacific-based agreement, having left a trading bloc on its doorstep in the shape of the EU.
Ms. Badenoh continued: "Every day we go to EU countries, I sign MOUs, we try and fix things that have become sticky but in addition to that we now have this new thing to add, and that's why it's fantastic and it is one of the benefits of leaving the EU, having more of the opportunity to make our own way in the world."
READ MORE: PM's new Brexit deal for Northern Ireland receives backing of MPs - despite Boris Johnson and Liz Truss revolt