'Shrouded in secrecy': Labour's Shadow Economic Secretary insists they cannot commit to HS2 without knowing full costs
19 September 2023, 12:04 | Updated: 19 September 2023, 12:41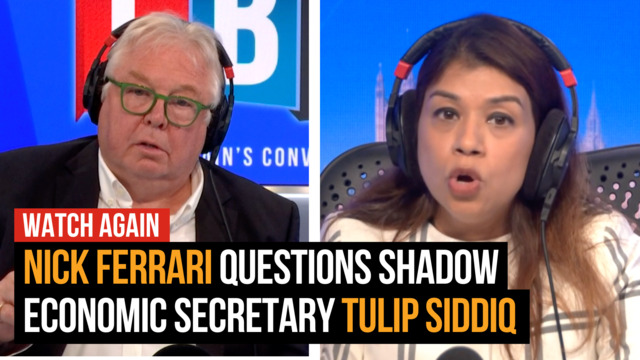 Shadow Economic Secretary Tulip Siddiq joins Nick Ferrari
Labour's Shadow Economic Secretary, Tulip Siddiq, has refused to confirm whether the party will back HS2.
Nick Ferrari challenged Labour's Tulip Siddiq on her party's conflicting stance: "Your election campaign coordinator, Pat McFadden, said the party would not commit to the project until the full costs were known... but Nick Thomas-Symonds said the Labour party would build HS2 in full.
Election Campaign Coordinator Pat McFadden said changes to the proposed cost of HS2 have left the Labour party on the fence: "When this started, a price tag of about £30 billion was put on it. Those prices haven't been raised since 2019 - we've had quite a lot of inflation since then."
READ MORE: HS2 'may not run to Euston' with passengers getting off six miles away in new plans to scrap part of troubled rail line
Nick Ferarri said: "We have one senior Labour politician saying 'No - let's see the costs'. You have another saying 'No - we're committed.' What is the true path here?"
Tulip replied: "The true path is that politicians - especially from the Labour party - are increasingly frustrated with the government's complete inability to clarify what's happening with HS2."
The high-speed rail plans originally saw a direct link between Manchester, Birmingham and Euston - but revised plans could see passengers alighting six miles west of central London, at the new Old Oak Common station.
Tulip described the rail project as having "inflated costs", saying, "maybe there's a genuine reason why the government's being so cagey about this. We need to know the full cost, the full practicalities".
READ MORE: Andrea Leadsom Admits Up To £12bn Has ALREADY Been Spent On HS2
She went on: "Would you call us a responsible opposition if we did commit without knowing the full figures? I don't think you would."
Nick hit back: "No, well I wonder why your colleague Nick Thomas-Symonds says he's committed to it in full?"
"We all want HS2 - I think that's the truth of it." Tulip insisted.
"Nick Thomas-Symonds is feeling very frustrated. It would make such a difference to people up North, but the government will not tell us the details properly. It's shrouded in secrecy. That's why we're so frustrated."
READ MORE: Government accused of 'great rail betrayal' as minister refuses to commit to HS2 reaching Manchester