Watch Again: Prime Minister Rishi Sunak talks migrant crisis, mortgage rates and NHS - in an LBC exclusive
2 August 2023, 08:16 | Updated: 2 August 2023, 11:29
Rishi Sunak joined Nick Ferrari at Breakfast to take your calls | Watch Again
Prime Minister Rishi Sunak spoke to LBC's Nick Ferrari in an exclusive phone-in this morning, taking questions from callers on a range of questions.
Mortgage rates
The first question faced by the Prime Minister was a father-of-four who is facing a huge hike in his mortgage payments.
Mr Sunak told him simply: "Talk to your bank.:
"Families are struggling with the cost of living - it's not as fast as I would like but we are heading in the right direction. Inflation is coming down," he said.
Mr Sunak has highlighted 'easements' put in place by the government, adding: "We don't want people to lose their homes."
Giving advice to a struggling homeowner, Jack - who said he feels like he is being 'punished' for paying into the system all his life, Mr Sunak said he should "talk to your bank."
Jack said he is facing a rise from £1,500 to £2,800 a month in mortgage repayments and asked: "Why do I feel like I'm being unfairly punished?"
He said he had the option to extend his term by five or ten years or switch over to an interest only mortgage, albeit temporarily.
'Small businesses are booming'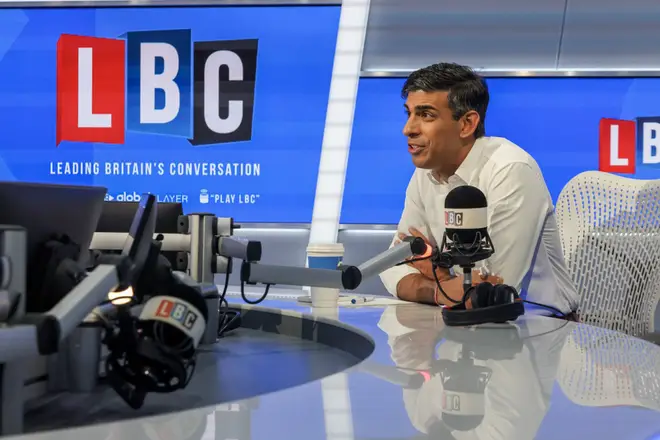 Mr Sunak insisted small businesses are booming, as a caller from his own constituency told him that four business had closed down last week.
Jo from Richmond in North Yorkshire - Mr Sunak's constituency - told the prime minister that four independent businesses had closed down in their area last week, and blamed Tory policies as the reason why they are struggling.
They were York House antiques, the Fleece Hotel, Cross View Tearooms and Ravensworth Nurseries, which has traded for 57 years.Mr Sunak said he knew some of those businesses "personally" and said the fact they were closing was "sad".
Read More: Nadine Dorries is not 'properly representing' her constituents Rishi Sunak tells LBC after she pledged to quit
Read More: 'You're the Prime Minister. Your staff aren't happy': Sunak defends NHS record in testy exchange with junior doctor
But the prime minister hit back at Jo's claim that Tory policies are hurting businesses, insisting that one of the primary reasons people are struggling economically at the moment is high energy bills.
"Every businesses has different circumstances," Mr Sunak told LBC's Nick Ferrari at Breakfast.
"I've been out and about a lot in the last week or two...talking to landlords - lots of them were telling me business is good, that footfall is up!"
Bibby Stockholm migrant barge 'not a shambles'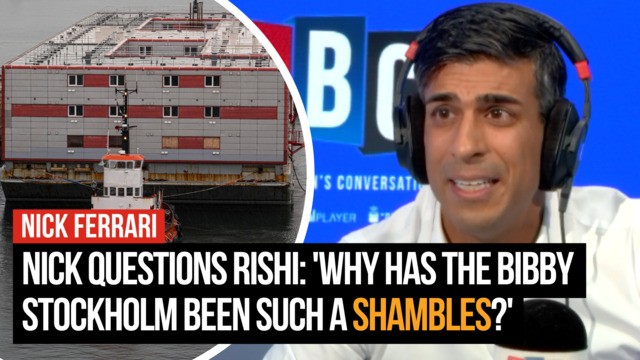 Rishi Sunak insists the handling of the Bibby Stockholm migrant barge has not been a 'shambles.
The prime minister was also quizzed on the Bibby Stockholm migrant barge, which he said is not a "shambles" after the introduction of migrants was delayed following failed fire safety checks.
Mr Sunak said it is "completely unfair" that UK taxpayers are baring the burden to house migrants in hotels, stressing the importance of introducing the Bibby Stockholm.
Asked by Nick why the rollout of the migrant barge, which arrived in Portland, Dorset, several weeks ago, has been such a "shambles", Mr Sunak said: "It hasn't."
"The point here is not is it yesterday, is it next week, this is an example of me doing something different that hasn't been done before to help solve a serious problem," he said.
"There is a barge here, people are going to be put on it, which will ease pressure in local communities."
Read More: Rishi Sunak's daughters are his 'ready made focus group' as PM says fossil fuels will still be needed at net zero
Sunak in testy exchange with junior doctors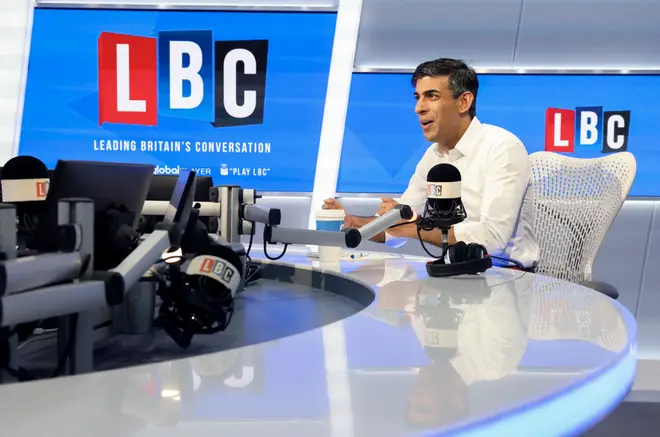 Olivia, a junior doctor from Newcastle, told Mr Sunak on LBC that his "refusal to negotiate" has done nothing to improve staff morale of standards of care within the NHS.
But Mr Sunak hit back, telling Olivia he is "proud" of his government's record, having invested record sums since he became prime minister.
"Not only that, but just last week we announced the first ever long-term workforce plan for the NHS so we can deliver something that has been asked for for decades and for the first time as PM I've delivered it," he said.
Mr Sunak added that he would urge Olivia's junior doctors union to accept the independent pay offer of six per cent which other healthcare workers have accepted, including nurses.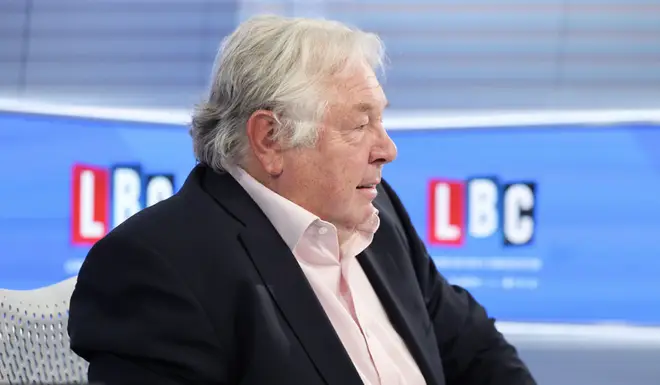 It comes after the prime minister blamed junior doctors strikes for halting his government's progress in bringing overall waiting list numbers down.
"We were actually making progress…we eliminated the number of two year waiters, people waiting a really long time, we practically eliminated the number of people waiting one-and-a-half years," he told LBC.
"We were making progress on bringing the overall numbers down. What happened? We had industrial action."